Brittle Bark
last evening. We started the night with dinner on the deck at
TJ Rockwells
. The food is outstanding, but be careful of what you order - it is all huge! A
half
order of their Rhino Fries (their version of cheese fries that playfully advises you to "buckle your seatbelt") was more than enough for four
very
hungry ladies to munch on before our salads arrived. I don't think any of us saw
the bottom of our salad plates either! We skipped dessert (as if any of us had room anyhow) so we could enjoy some samples at Brittle Bark.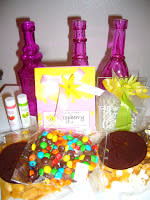 Brittle Bark is famous for its extensive line of uniquely flavored peanut brittle (it was even featured on the Rachel Ray Show!). The product line has expanded over the years, and Ladies' Night was basically a "flaunt what you got" showcase of all of their classic, new and prototype candies.
I was impressed with the amount of taste-testing and sampling that was available. We were greeted at the front door with a prototype of chocolate covered cookies (Nutter Butters, Oreos and Lady Fingers) that will be available around Christmas. Inside were samples of Key Lime Cheese Balls, Cinnamon Popcorn, assorted coated nuts, Pear-Ginger Brittle, brownies, truffles, chocolate covered strawberries and a new item - miniature cakes made out of fudge (four different flavors). It was a chocoholic's heaven! Word must have got around, because the store was packed.
I snatched up a few items as gifts and brought some of the "Just Peanut" Brittle back to the office for a co-worker (not mentioning names). She finished the entire bag before 9:00 a.m., so I'm assuming it was as good as it looked.
Did anyone else make it out to Brittle Bark last night?