Something that I've been pleasantly surprised by while touring Cumberland Valley Bed and Breakfasts is how different each one is.  Like a person, each Bed and Breakfast has a unique flavor and feel.  I recently attended a baby shower at
Blair Mountain Bed and Breakfast
, which was a perfect backdrop for such a sweet and "girly" activity.
The shower was held by the mom-to-be's sister and was adorable.  It was held in a corner room of the Bed and Breakfast that had lots of windows overlooking the Dillsburg countryside.  It snowed while we were there, which was a nice addition to our tea-party shower.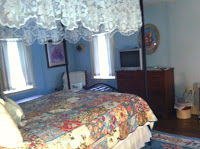 After the shower, the innkeeper took us on a short guided tour of the four room Bed and Breakfast.  She pointed out the exposed beams and original flooring of the three-story 1700's house.  I snapped a few pictures to share, but there are just some charming features that even an iPhone can't capture.