Friday afternoon I found myself near the end of the
Route 15 ByWay of the Arts
artisan trail in Newport. I stopped by the Landis House to see their newest exhibit, Landis Legacy, which features a variety of artworks collected by the Landis family in the 1920's and 1930's.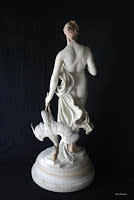 The exhibit is interesting because above and beyond displaying artwork from different countries and mediums, it tells the story of the Landis family in their own home. Walking from room to room I felt like I was getting a true sense of Mary and her family from the artwork, books, furniture and diary entries that were displayed.
A little bonus treat for me was the surprise arrival of a pianist who situated himself at the magnificent Bechstein piano to practice for the afternoon.
The Landis Legacy exhibit will be on display until February 24.