Last weekend we took my almost two-year old twins to Lake Tobias on a beautiful Sunday afternoon. This was my first time and my husband hadn't been there since he was a kid. What a great place for families! Not only is it extremely affordable, only $6/person for zoo admission (children under 3 are free), an additional $6 to go on the safari tour and free parking, the smiles and laughter radiating from your kids will be priceless. The girls love books with animals...they love pointing at them and identifying them by either name or the sound they make. It was so cool to take them on an adventure so they could see that the safari animals in the books are actually real. They were so excited!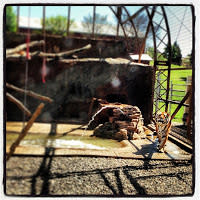 I'm not really a zoo person, but I figured I'd give it a try since the girls would probably enjoy it. I'm glad I did. Tobias is more of a wildlife park with natural habitats. The animals seemed well taken care of and healthy. The park size isn't overwhelming, which is great when you have toddlers, but you could still spend a half-a-day easily. We didn't go on the safari ride just because 45 minutes seemed like a long time for the girls. When they are a little older I am sure they will love it! We went on a Sunday around 3 p.m., which seemed to be a great time as far as the crowds not being too heavy.

TIPS: This is probably not a tip for those that frequent zoos, but for the newbies, definitely wear close-toe shoes. I wore my keens and had to keep emptying out the gravel and dirt. Also, you can bring a picnic lunch which will help keep your day affordable.