Looking to find that perfect gift for each person on your list? The Cumberland Valley has a number of shops and attractions, perfect for discovering an eclectic mix of presents for everyone. Here are some our favorite gifts to find in the Cumberland Valley…
Gifts for everyone
My take on holiday shopping is that I buy one gift for a friend or relative and then one gift for myself. And there are plenty of locations throughout Cumberland Valley to meet all my gift giving needs. Instead of suggesting specific gifts, I'm going to suggest certain stores. Did you know that if each of us spent $100 more per year on local businesses instead of chain stores, it would put an extra three million dollars into our economy? So start shopping everyone!
-Stacey
Local Artisans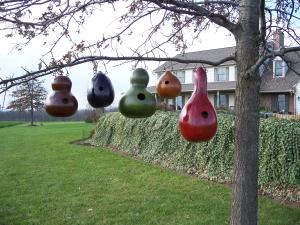 I love to give handmade gifts because they are each a little different and usually add a touch of whimsy to a practical item. What I give really depends on the person, but some of my favorite gifts include a guitar-string cheese slicer from Village Artisans Gallery, birdhouses from Meadowbrooke Gourds, wooden serving forks from One Good Woman, pottery from Ten Thousand Villages and loose tea from Camellia's Sin Tea Parlor and Gift Shop. You can view a list of local artisans here.
 -Ashley
Ornaments at Village Artisan Gallery and Gloves at the greatest gift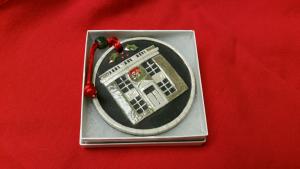 My favorite go-to place for great gifts are – well there are two of them.
Village Artisan Gallery – in particular at this time of year I love the Boiling Springs inspired ornaments – each year, artist Jenny Cruz makes 250 ornaments modeled after a Boiling Springs landmark. This year, it is the Boiling Springs State Bank building, which is now a private residence. I have all of them except for the first year. Over the years, I have sent these ornaments to other households across the nation and they are cherished.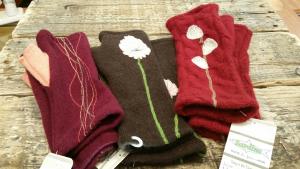 My other go-to place is the greatest gift – there is always a huge assortment of gift ideas at varying price points. This year, I will be giving all the young women in my life a pair of the fingerless gloves which I was lucky enough to pick up my own pair at a silent auction a couple years ago. They are warm, stylish, colorful and full of whimsy.
Buying local and handmade will surely bring smiles to those receiving these special gifts that are selected with care and love.
-Shireen
Rich Valley Golf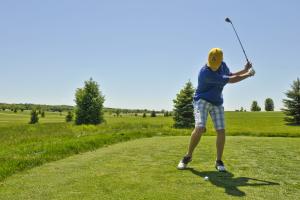 Some may think it's slightly impersonal to give gift certificates as gifts. But, for those on my list who love to golf, I can't think of anything better than a gift certificate to Rich Valley Golf Course in Mechanicsburg. Rich Valley has a promotion between Thanksgiving and Christmas Eve, where you can purchase a weekend round-of-golf gift certificate at discounted rate. The 18-hole course even has a mini-golf course attached to it.
-Aaron
Fresh Coffee from One Good Woman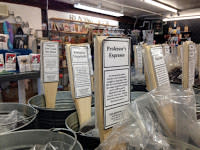 I have a lot of coffee-lovers in my family and one of my favorite gifts to give is fresh ground coffee from One Good Woman in Camp Hill. They purchase coffee from three major growing regions around the world (Africa, Indonesia and the Americas) and then roast the beans in small batches. They have an incredible variety of regular, decaf, and flavored coffees sure to please every coffee lover's taste buds. Plus, you can purchase a cute coffee mug as well.
-Kristen
Want a chance to win some of these gifts? Learn more about our Cumberland Valley Gift Guide Contest here.