The Cellar
, I suggested that we meet there. I had been in a couple of times to drop off information but had never had a chance to actually eat... which is rare for me, anyone who knows me knows I am an eater!! And they specialize in using local, organic, and sustainable foods whenever possible which is a favorite practice of mine as well!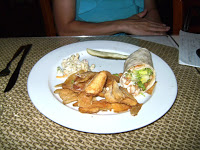 First of all it was ridiculously hot that day and just walking into the air conditioning made a fantastic first impression on me! Then we had a LOT of discussion as to what we were going to order since we were both starving and everything on the menu sounded good. I wavered on getting the quiche special since it only came with a salad and I was afraid of being hungry afterwards... FYI, it was a large slice and a big salad so I went away very happy. I didn't get a picture of my quiche since I gobbled it down, but I did manage to stop Dawn half way through her Firecracker Chicken Wrap for a photo op.
 She, by the way, says it was "just spicy enough and not too heavy on the dressing". We asked to speak with the new partner, Ron, while we were there and lo and behold he was busing the table next to us! He came right over and answered all of our questions, including an inquiry as to where the quaint little salt and pepper shakers came from. They were made out of tiny little gourds and so cute! Anyways, back to the food. The quiche of the day had ham, potatoes, and asparagus in it and it was delicious... but the best part of my meal turned out to the be the salad dressing. I got a little adventurous and said yes to the house dressing even though it was described as a "citrus vinaigrette" (by our solicitous waitress Bee) which doesn't seem like my thing.... I am so glad I did because it was fantastic!! I highly recommend ordering a salad if you have a chance to go there. The produce was so fresh tasting and then topped with this fantastic dressing... YUM! Needless to say we had no room for dessert at this point... so we headed back out into the heat feeling both community savvy and tummy happy!