Beer is a wonderful thing. Whether you like ales or stouts or lagers or malts, there's usually a beer for everyone (unless of course you are underage). Tasting and trying new beer is always fun, but we all have our go-to brews. Here are some of our favs from around the Cumberland Valley…
SereniTEA at Al's of Hampden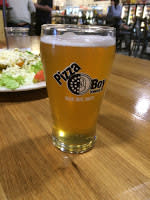 My current favorite beer made by Pizza Boy Brewery is SereniTEA. It is a cream ale with a refreshingly smooth taste and a subtle hint of tea flavor. I always enjoy trying something new from the vast selection of beers on tap at Al's of Hampden. There is quite a variety of Pizza Boy brews to choose from in addition to many more from various popular breweries. It's easy to find one that tastes great with whatever you choose from their menu of good food. I'm always happy with my visits to Al's of Hampden.
-Luke
Chocolate Stout at Appalachian Brewing Company
My absolute favorite local beer is the Chocolate Avenue Stout from
Appalachian Brewing Company
. I love stouts to begin with because they are rich and remind me of dessert. This one is no exception and it's nice and sweet with a deep chocolate flavor. I'd have to say a close second is also from the Appalachian Brewing Company, their Trail Blaze Maple Brown Ale is also delicious and the natural maple syrup flavors are hard to find anywhere else. When you visit plan to stay awhile because they also have a delicious menu of appetizers, burgers, sandwiches, and entrees. 
-Kristen
Water Gap Wheat Ale at Appalachian Brewing Company
While I share Kristen's sentiment on the Trail Blaze Maple Brown, my favorite is also from
ABC
, but it's their Water Gap Wheat Ale. It's a light ale that goes down easy…perfect for summer. ABC typically serves it with a lemon to enhance the flavor. ABC has a number of delicious
specialty and seasonal beers
that you need to be on the lookout for as well.
-Aaron
Molly Pitcher Brewing Company
For those that love beer – you are sure to find your favorite wheat, malty or hoppy one – there are plenty of choices at
Molly Pitcher Brewing Company
.  For those that do not, you will also find something that you absolutely love!
I asked the waitress for a nice sampler tasting from light to dark – knowing that I would prefer the lighter side – but amazingly, I ended up choosing tastes from the full spectrum. 
#1 – War Ball Wit – the lightest of the 6-taster selection – and oh my this is the perfect "any and every day" beer – creamy, sweet and the hint of orange and cinnamon adds a refreshing dimension.
#2 – Espresso Stout – the darkest of the selection – looks like old motor oil but is the perfect espresso finish to any day.  It has a liquor like quality without the syrupy aftertaste.  Whether you like coffee or not, this is a really well-crafted beer.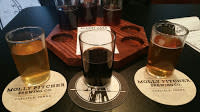 #3 – Uber Pilsner – a reddish beer and the perfect beer for pizza.  It has a hint of bitters and what I thought was some grapefruit. 
Molly Pitcher is a fun place to hang out and have a beer or two and some snacks. There are a few tables located outside. The inside has a happy hum of friends having some laughs and relaxation. You can pick up beer to go by the bottle or growler.
-Shireen
Black Powder Stout at Molly Pitcher Brewing Company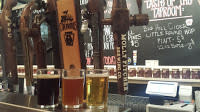 One of my favorite local beers is the Black Powder Stout at
Molly Pitcher Brewing Company
in Carlisle. A lot of their brews are good, but I really like the smooth, robust flavor of this stout. It has a really nice chocolatey, coffee rich flavor. This is also a great place to hang out if you enjoy craft brews, as you can get a sampler or try out their new evolving options. As a self-proclaimed history buff, the Revolutionary War-themed beers and unique flintlock taps add to the experience.
-Cory