This past Saturday my son and I took a father and son trip to the Carlisle Truck Nationals. Despite some torrential downpours the day was great. We were lucky enough to avoid the two thunderstorms that came through. When the first one hit we were eating in the covered food court behind the grandstands.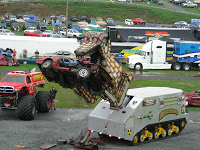 When the second one hit we were in the grandstands waiting to see Megasaurus and the Monster Trucks. There were some amazing custom big rigs, slammed trucks and lifted trucks. But the most memorable thing for me wasn't a truck at all. It was a jet engine powered Smart car. When the jet engine powered up you could feel the heat in the grandstands. My son absolutely loved Megasaurus. He stood in amazement as Megasaurus chomped a car in half and set it on fire.
All he did was talk about Megasaurus when we were leaving to go home. He ended up falling asleep in the car, but when he woke up after we got home he picked up his conversation right where he left off.