Forests and Charcoal
"During the winter months the woodsman's axe was heard in every direction, felling the timber and converting it into cord wood. During the summer the smoke of hundreds of charcoal pits could be seen in every direction, making the mountain from base to summit a veritable hive of industry."  -- B. K. Goodyear, Blast Furnaces of Cumberland County (1903)
When you look at the Michaux State Forest today, it's hard to believe most of the land was clear-cut over and over again in the 19th century. Iron works such as the ones at Boiling Springs, Mount Holly, and Pine Grove Furnace used hardwood trees to make charcoal fuel for smelting iron ore. The rule of thumb was that one acre of trees was needed to operate the furnace for one day. Each section of land was allowed to grow back for around 25 years, then cut again.
An Amusement Park in the Woods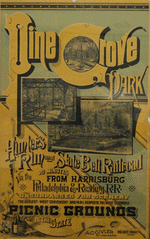 Even as the land was being deforested, the late 19th-century iron companies created free "rustic retreats" in the surrounding South Mountain region in the hopes of increasing revenue on their short-line railroads. The idea was that passengers would buy a rail ticket to visit secluded spots on the iron company lands, even as iron furnaces continued to smelt pig iron a short distance away. At Pine Grove Furnace, 30 wooded acres were set aside in 1878 and used as an amusement park and picnic area. Jackson Fuller's "Pine Grove Park" operated until about 1900. There were pavilions, swings, bowling alleys, a water-powered merry-go-round, a 200-yard shooting range, and a shallow two-acre lake for boating. At its peak, more than 20,000 people arrived annually. Visitors could pay a little extra to ride a steam car and see the industrial operation nearby -- an early version of a "factory tour" but without safety handrails and plexiglass! The site of the iron company's amusement park was later used for organized camping by several groups, with extensive development by the Girl Scouts from 1922 to 1967. Directly across Mountain Creek, the Girl Scouts built a 90-foot swimming pool in 1934, still visible though now filled with dirt and trees. Today, the Koppenhaver loop hiking trail at Pine Grove Furnace State Park passes through the middle of the former amusement park and scout camp. A few traces remain for the observant visitor to find -- can you spot them?
Recent History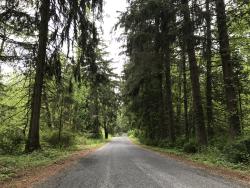 Only when the charcoal iron industry ended and the Commonwealth of Pennsylvania purchased the former company lands in the early 20th century did the forests around Michaux grow back. With careful management under the Department of Forests and Waters and its successors (today, the Department of Conservation and Natural Resources), today Michaux spans almost 90,000 acres in Adams, Cumberland, and Franklin counties and includes three state parks (Caledonia, Pine Grove, and Mont Alto), Its scenic beauty is enjoyed by hikers, bikers, picnickers, and many others. Come visit and marvel at the beautiful woods we have today, created from the "industrial forest" of an earlier era.