A mother and son evening isn't always the easiest thing to plan, but if laughter is included it's a sure sell for this mom. I recently pulled together a night out in Cumberland Valley with my almost teenage son, filled with food and fun.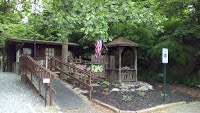 We kicked off the evening with dinner at Pizza Grille, Carlisle, a suggestion by mom and a quick yes by the son. We ordered specialty pizza's of course, it's what they do, one Mexican and one Traditional.  As mother and son go, we're a bit opposite in personality type and he's not the adventurous one, so you can guess who ordered which pizza. Upon finishing our pizzas we headed to Shippensburg for a show at the H. Ric Luhrs Performing Arts Center.  We had some extra time so we stopped for a quick sweet treat at Cabin on King. A cute new Ice Cream choice to Shippensburg, but could be missed due to its "cool" location nestled in a small nook surrounded by a 10+ foot natural rock wall. Definitely a neat feature for my son to talk about as we enjoyed a mango fruit smoothie and a single scoop of coconut almond ice cream. We would have enjoyed some extra enjoying our treat, but we had to keep it short because we couldn't be late for the show.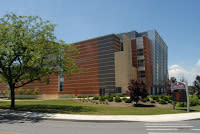 We finally reached our final stop and my son was so excited to be back at the H. Ric Luhrs Performing Arts Center. He's been attending performances here since he was six, but this time is really special since he's seeing his favorite comedian Kevin James. What a great evening in Cumberland Valley and as my son would say, the evening was "so cool and one of the best ever."  I look forward to the next one.