Make this summer one to remember by exploring some of the most fun locations in Central PA, as well as uncovering some hidden gems. Download the My Cumberland Valley Summer bucket list and check off items as you explore each location. Be sure to take some pictures and share your memories by using the tag #MyCVSummer on social media.
Boiling Springs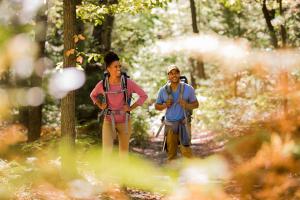 Hike a section of the Appalachian Trail. A section of this historic footpath runs alongside Children's Lake. To continue on the A.T., walk south past the historic Iron Furnace, into woodlands, and then agricultural fields.
Explore Children's Lake. Stroll, picnic, paddle, or fish along the banks of this picture-perfect man-made lake that is home to ducks, swans, geese, and trout. 
Take a picture at the Veterans Memorial Clock Tower. Fun fact: Located on Children's Lake, the tower was built with stones taken from Daniel Kaufman's barn, a location that was used as a safe haven for runaway slaves along the Underground Railroad. Mr. Kaufman laid out the village of Boiling Springs and was an Underground Railroad agent from 1835 to 1847.
Camp Hill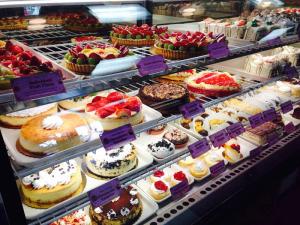 Pick your favorite dessert from Pennsylvania Bakery. We're partial to the eclairs, but don't let us influence you. Choose from tarts, tortes, cheesecake, brownies, cookies, or more. With their extensive selection, you are sure to have more than one favorite.
Go shopping. The vibrant and walkable town of Camp Hill is bursting with boutique stores where you can find jewelry, gourmet food, specialty coffee, home decor, and chic and comfortable clothing. 
Order a specialty drink from Cornerstone Coffeehouse. Sip and savor enjoyable flavor combinations such as their classic honey vanilla latte or seasonal lavender blossom frappe. If you don't like coffee, they offer Italian sodas, hot and iced tea, smoothies, and kombucha.
Carlisle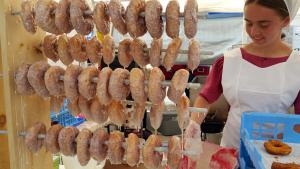 Find fresh produce at Farmers on the Square. This year-round producers'-only farmers market sets up on the Square in downtown Carlisle every Wednesday from 3 pm to 7 pm. Choose from an abundance of seasonal produce, fresh flowers, baked goods, dairy products, and more. 
Explore the Army Heritage Trail at the U.S. Army Heritage & Education Center. Experience the history of the U.S. Army while walking along this one-mile loop. Fourteen individual exhibits can be explored and enjoyed.
Mini-Golf or Go-Karts at the Carlisle Sports Emporium. Known as "The Place to Play", Carlisle Sports Emporium has two mini-golf courses and indoor and outdoor go-kart tracks plus other indoor and outdoor interactive entertainment for the whole family.
Mechanicsburg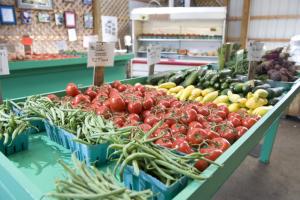 Pick out fresh food at Paulus Farm Market. This open-air market and family farm sells a variety of fresh, seasonal, and delicious foods, plus you can brighten your day with some beautiful flowers and plants. Kids will enjoy the animals and unique play spaces at the farm park.
Mini-Golf at Rich Valley Golf. Rich Valley's mini-golf course offers fun for the entire family and features 9-holes that are handicapped-accessible.
Explore Lower Allen Community Park. The 110-acre park features a tot lot play area, a butterfly garden, a one-mile loop nature trail, access to the Yellow Breeches Creek, and a "Field of Dreams" playground with an ADA-accessible fortress, and the Doggie Dugout dog park (free and open to the public).
Lemoyne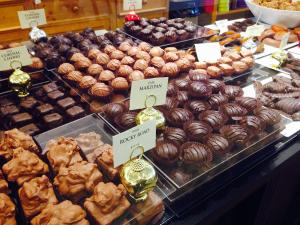 Find your favorite chocolate at Macris Chocolates. Not only do they have over 100 varieties of chocolate they have a changing selection of hand-dipped ice from Penn State Creamery. That's a win-win situation.
Enjoy fresh food at the West Shore Farmer's Market. The vast selection and delightful aromas from over 50 vendors will tempt your taste buds. As a bonus, they have added a small outdoor seating area this year.
Take in the views at Negley Park. Perched on a hill, Negley Park offers one of the most picturesque views in the area of the Harrisburg skyline and the Susquehanna River. Pack a picnic lunch and take in the beautiful scenery.
Enola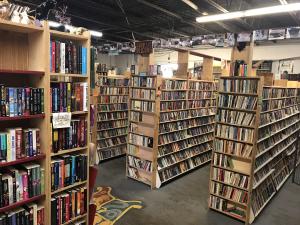 Pick up a book at Cupboard Maker Books. With a large selection of gently-used books, you'll find the perfect summer reading selection. Be sure to say hello to the store's two permanent resident bookstore cats plus other foster cats that are available for adoption.
Ice Cream at Kristy's Whistle Stop. Check out their Facebook page for limited-time specials such as ice cream nachos (ice cream with your choice of drizzle, whip cream, cherry, and chocolate-covered waffle cones to dip) or chocolate-covered cheesecake. The menu also includes specialty sundaes, milkshakes, and hurricanes.
Enjoy Adams-Ricci Park. This 82-acre park features a large children's play structure, five walking trails, walk-in access to the Conodoguinet Creek, and numerous pavilions.
Mount Holly Springs/Gardners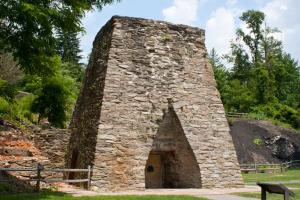 Take a picture at Pine Grove Iron Furnace. Located in Pine Grove Furnace State Park, the iron furnace was built in 1764 and operated until 1895. It is a reminder that this scenic mountain getaway was once an industrial hub.
Hike the Mount Holly Marsh Preserve. You'll see a variety of wildlife and birds as you hike one of six different trails at this 913-acre nature preserve.
Enjoy the lakeside beach at Laurel or Fuller Lakes. The mountain backdrop, cool water, and sandy beaches make these lakes at Pine Grove Furnace State Park a perfect respite from hot summer days.
New Cumberland
Enjoy ice cream at Hanna's Ice Cream Shoppe. The retro 50's vibe of Hanna's makes it a sweet destination for a cold treat.
Explore New Cumberland Borough Park. Pack a picnic lunch and head to this park for a carefree afternoon with the family.
Newville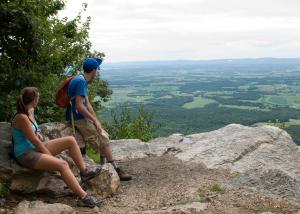 Hike at Colonel Denning State Park. There are three trails in the park, including the well-known Flat Rock Trail. Although strenuous, you will be rewarded with sweeping views of the valley. TIP: To avoid crowds, hike early in the day or during the week.
Enjoy ice cream from Jaymee Lee's Diner. Choose from 50 flavors of soft serve at the walk-up window.
See a movie at the Cumberland Drive-In. Experience old-fashioned fun at one of only approximately 300 drive-in theatres remaining in the United States. Operating every Friday, Saturday, and Sunday evening, a second feature is always included with the price of admission.
Wormleysburg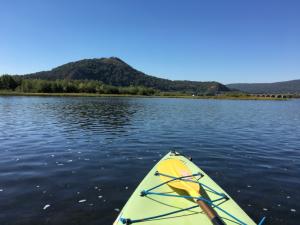 Kayak along the Susquehanna River. If you don't have your own, rent a kayak (or a canoe or SUP) at Susquehanna Outfitters and enjoy a day on the water.
Explore City Island. This 63-acre island in the Susquehanna River provides all the summertime fun you can handle with the Pride of the Susquehanna Riverboat, a carousel, mini train, arcade, batting cages, and miniature golf course with great water views. (NOTE: The baseball season has been postponed so the Harrisburg Senators minor league baseball team is not playing.)
Enjoy waterfront dining. Along the Susquehanna River, Dukes Riverside Bar and Grille and Dockside Willies both have their own charm and unique menu options. They offer some of the finest outdoor dining in Central Pennsylvania. 
Shippensburg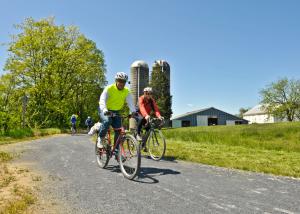 Hop on the Cumberland Valley Rail Trail. Following the same path as the historic Cumberland Valley railroad corridor, this 13-mile trail features a flat surface ideal for biking, horseback riding, or a leisurely stroll.
Explore the Cumberland Valley Railroad Museum. Located inside a renovated 1956 50-foot long boxcar, the museum is the focal point of the Shippensburg Station trailhead of the Cumberland Valley Rail Trail.
Get ice cream at Goose Bros. Premium ice cream made on-site in a variety of yummy flavors.
You may have noticed a number of ice cream shops on our summer bucket list. Sign up for the free digital passport, check-in at participating locations, and win prizes.
Have fun exploring Cumberland Valley and don't forget to use #MyCVSummer on social media!