Fall at the Copenhaver home officially begins when we've made our annual visit to Paulus Orchards. This year the weather was on our side. It was a beautiful day! There were a ton of people, but because everything is so spread out it never felt overwhelming. They have the perfect mix of activities, from free to a fee, allowing you to stay for an hour or the whole day. Here's a look at what you will find. Their Fall Fun on the Farm is only on weekends from early September to November 1st.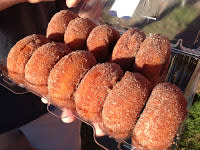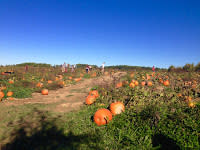 We love to pick apples and pumpkins! I love taking the girls to farms so they can see where their food comes from and because it's fun! Paulus has over 24 apple varieties, but they aren't all available at the same time, so if you have a favorite apple check their website before you go. There are two bag sizes to choose from. This year we went with the larger size. We always run out and wish we had more, and they last for weeks in the refrigerator. They have carts available so you can tow your kids and pickings. Bring a blanket to cover the bottom of the cart, because naturally, they are dirty. TIP: I bought Kyocera Ceramic knives at the Kitchen Shoppe, so now when we cut our apples they won't turn brown. Works for avocados too! 
The Paulus Family seems to have thought of everything! From the huge rocker that you can't pass up a photo to the smell of the fresh kettle corn being popped under a tent. At the entrance, is their Farm Store, covered picnic table area, and big and small old tractors that my kids love to climb on. They love tractors and pretending that they are driving.There are also mega checker and tic-tac-toe board tables that the whole family can enjoy playing. Something I was surprised to find out is that their wagon ride is free - just like a hayride without the hay. You get a 15-20 minute ride around the scenic 150-acre farm. 
Their Farm Store is filled to the brim with all of the homemade, canned and jarred goodies, and produce you'd expect. They also have Karen't Kitchen where you can buy wraps, soups, salads, apple crisp, ice cream and more. One of the most iconic items at Paulus Orchards and a must buy are their warm homemade cider donuts. There was a line out the door waiting for just out of the oven donuts, from the time they opened to the time they closed. A picture doesn't do them justice. You must indulge in one...or two to appreciate the deliciousness!
For $7 a person (2 and under are free) you can play all day in their PlayLand and five-acre corn maze. PlayLand has well over 15 activities, including pedal karts, the cow train,

 

 



dress the scarecrow, tube slides and so much more! Every year they change the maze design. The 2015 design is the state of Pennsylvania. Along the way you are teased with facts to persuade your choice in direction. 
Paulus Orchards is one of our favorite places to go in the fall and summer. I know you will love it too!