This month's pizza selection came from The Pizza Grille. With locations in Carlisle, Lemoyne, and Camp Hill, this casual restaurant offers an interesting and delicious selection of pizzas, sandwiches, salads and entrees. The pizza comes in 8 and 10-inch sizes, with crust options including regular, whole wheat and gluten-free. This smaller size makes it perfect for ordering a few pizzas to share since there are nearly 30 different flavor combinations to choose from! Below is the selection that we ordered, with a few notes on each.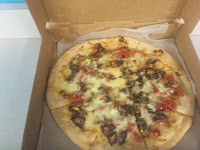 Grilled Vegetable
Traditional
The traditional is just how it sounds - tomato sauce and mozzarella. We ordered this classic favorite with both the regular and whole wheat crust.

Grilled Vegetable
This combination almost makes pizza feel healthy! Featuring grilled zucchini, yellow squash, roasted red peppers, caramelized onions, garlic olive oil, parmesan and mozzarella, this tasty pizza reminds you of grilling and summer.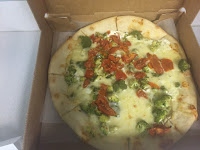 Bianca
Bianca
Bianca is The Pizza Grille's version of a white pizza. Heavy on the garlic, this pizza is topped with broccoli, roasted tomatoes, garlic olive oil, garlic ricotta, and mozzarella. I'm really not a fan of broccoli on pizza, but I didn't mind it on this.

Eggplant
This unusual combination was definitely my favorite! Grilled eggplant, pine nuts, raisins, garlic, romano, mozzarella, pesto and marinara meld together to make each bite delicious. The eggplant was an odd topping for pizza but was fabulous paired with the pesto. I will definitely order this one again!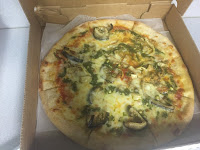 Eggplant
Feta & Sun-Dried Tomato Salad
We also ordered the feta and sun-dried tomato salad. I love this salad because it is chopped, making it manageable to eat at a business meeting or event. The sun-dried tomatoes are tart and pair nicely with the tangy balsamic vinaigrette dressing. Our office all likes feta, and thankfully, this salad comes with a lot of it so there was no fighting over the cheese! Each salad also comes with a pizza-like slice of garlic bread that is very tasty.