Tucked away on King Street in Shippensburg is Cabin on King, a place that can be easily missed by those just driving by. However, Shippensburg students have started to buzz about the amazing treats that Cabin on King has to offer.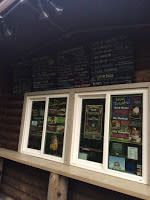 Cabin on King serves local ice cream from Windy Knoll Creamery. The unique shop offers deliciously creative sundaes, homemade cookies and real fruit smoothies. Some of the specialty options offered by Cabin on King are brownie sundae, coffee sundae, a chocolate lover's sundae, maple bacon sundae and my personal favorite the s'mores sundae.
The unique, local and delicious treats are what bring my friends and me coming back. My favorite sundae the s'mores sundae is made with vanilla ice cream, marshmallow fluff, hot fudge, graham crackers and crumbs and a torched marshmallow on top. I love watching the friendly staff torch the marshmallow. The time taken to create the specialty sundaes make you appreciative of the treat and ready to dig in. I have not been to an ice cream shop with such unique and delicious treats.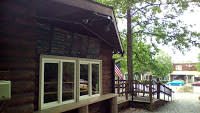 It is not just the treats that my friends and I enjoy but the location. Cabin on King is located in a rock cavern that makes you feel like you are in the mountains rather than on a main street in Shippensburg. It offers a quaint hangout for college students are a place for families to even enjoy. If you are looking for a sweet treat, Cabin on King is definitely a must. The versatile menu, quaint location and friendly staff offer a great experience for anyone.
-Jessica Richardson 
Jessica will be starting her senior year at Shippensburg University in the Fall 2016 and she is a Communication/Journalism major with a concentration in Political Science. She chose Shippensburg because of its accreditation of her chosen major as well as the quaint location. She holds leadership positions in multiple organizations on-campus including Alpha Phi Fraternity, Order of Omega, Student Senate, Women's Panhellenic Council and The Slate. When she is not working hard on her studies she enjoys reading, watching game shows or going on runs or hikes in the local area.