Shopping at
Miss Ruth's Time Bomb
is an experience and it always brings a smile to my face. It's quirky, eclectic and unpredictable fun! Guys and gals, teens and up, you'll find something to connect with in Miss Ruth's Time Bomb.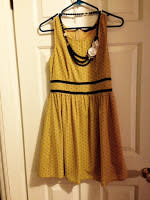 You'll find affordable one-of-a-kind vintage, retro and quirky clothes, shoes and accessories. For those that don't know (I also wasn't clued in), vintage is 20+ years old and retro is new fashion made to look old. They are always getting in new and old stuff, so you need to stop by often. I love shopping at Miss Ruth's, because I adore what I buy and I know that it is one-of-a-kind or near close. See one of my favorite purchases to the right, a retro mustard dress and vintage necklace with a mother of pearl flower. 
I'll be the first to admit that buying vintage used to make me a little anxious, because I had no idea where to start. Rest assured that Miss Ruth's will break down that barrier and help you find the perfect outfit to fit your style, shape and era. It's a lot of fun to try on vintage clothing and accessories, and even more rewarding to find an outfit, necklace, fur coat, dress, purse or suit that you fall in love with. Another benefit, is they can teach you about the different eras of fashion. Whether you need an outfit from the 60s or the most unique dress or suit at your school dance, they can help you find it.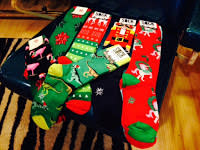 Speaking of fashion, do you have an ugly sweater party coming up? Look no further. Around the holidays they have a huge selection of ugly Christmas sweaters, vests and sweatshirts. They have some winners and I love that they price them based on their ugliness. They also have unique Christmas socks. My favorites are the unicorns and flamingos with Christmas wreaths - see a sample to the right. They have an entire wall dedicated to socks (close to 100 different styles) - astronauts, teeth, chatterbox teeth, animals, donuts, cupcakes, ninjas, Dracula, sushi, campers, musical notes - the list goes on and on. 
Since it's almost the season of giving (and I know you want to support your local shops as much as I do), here are some suggestions for gifts for your family, friends or yourself (there are so many gift ideas, you really just need to go):
Serenity leather wrap bracelet

Super cute retro wristlet 

Dr Martens (the newest addition to the store)

Vintage vinyl record

Snazzy socks

Vintage tie or necklace
Most of their vintage wear is bought at estate sales. One of the cool things about vintage is that there is always a story. When possible,
they find that story and create fashion collections by tagging items
with a signature tag that speaks to the story of the owner, often with a photo. Knowing the person behind the clothes is cool in itself, but if you like one item from their collection you might like others - the tags help you identify them.
Get ready to mix up the old with the new. Get a little crazy (I have a hunch that they like crazy).
Miss Ruth's Time Bomb has brought a super cool vibe to downtown Carlisle and through the
Market
of Curiosities
, held December 5
th
12-8 p.m. at the
Carlisle Ribbon Mill
. Last year's event was a huge success and for good reason. It was awesome! Find it all under one roof: shopping, beer tasting, food and live music.
It's the perfect place to find a unique gift that's handmade, vintage or repurposed

Noon to 3 p.m. is geared toward families - 12:30-2:15 is open mic for 14 and under

Yummy food all day

Beer tasting starts at 3 p.m.

Music all day: Two DJs and six performers with a new line up every 45 minutes

A lot of cheer, laughs and smiles – see you there!