Meadowbrooke Gourds
in Carlisle is embracing the coming season and inviting everyone to their Spring Open House events throughout March. I'm down for anything that says goodbye to snow and freezing rain and welcome flowers and warm weather. Leave it to the world's largest gourd-crafting company to greet the changing seasons with bunny gourds and great activities for the family.
Below is their schedule. If anyone makes their own gourd send pictures our way!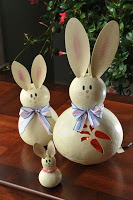 March 19th, 20th, 26th & 27th:
Create-your-own Bunny class. 10a.m. - Noon, 1p.m. - 3p.m., 4p.m. - 6p.m.
March 20th:
Easter Gourd Egg Hunt - Participate in one of three Easter Gourd Egg hunts for various prizes! 11a.m. - Noon, 1p.m. - 2 p.m.,  3p.m. - 4 p.m.
March 26th & 27th:
Paint-your-own Birdhouse, Easter Basket & Easter Eggs. Anytime between 10a.m. - 6p.m. Also this is Customer Thank You Weekend: Enjoy 25% off all spring items!