The hamburger. Cheeseburger. Bacon cheeseburger. Turkey burger. Bison burger. Veggie burger. Cheeseburger Pizza. Pizza burger.
People love their burgers. Everyone has their favorite burger and their favorite burger place. Whether it's the meat, the toppings, the bun, or the presentation…something about your favorite burger makes it unique from one place to the next. Here are some favorite places for staff to find a burger in the Cumberland Valley.
 
The Appalachian thru-hiker turkey burger at
Appalachian Brewing Company
 is my favorite…it's big, juicy and tasty. It's layered with spinach, melted gouda cheese (yum) and avocado. An added bonus, and perhaps what makes the burger, is the honey ginger mayonnaise – it is so good. I always order it on the side and ask for extra to dip my fries in. The sweet potato fries pair really nicely with it.
-Valerie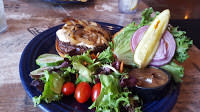 When it comes right down to it, I like comfort, so I always return to one of my favorites, the Boursin Burger, at
Brewhouse Grille
in Camp Hill. The Brewhouse Grille offers a comfortable atmosphere with indoor and outdoor seating when the weather is suitable in PA, and we're headed in that direction. They always grill my burger perfectly for my taste, medium well, and the blending of the cheese and caramelized onions on top gives it great flavor. Pair your burger with a side salad and you may feel a little healthier, as I do every time I indulge. 
-Dawn 
One of my favorite burgers in Cumberland Valley is the Lamb Burger from
Café Bruges
. Often lost on their popular menu, this unassuming burger comes on a toasted roll with gruyere cheese and your choice of sauce. The simplicity is what really hits the spot, as the perfectly seasoned lamb hits the taste buds at full force. You'll want to eat this burger slowly and savor each delicious bite.
-Ashley
There are plenty of fancy and unique burger options in Cumberland Valley, but when it comes down to a basic cheeseburger, my favorite is the Flinchburger from
Flinchy's
in Camp Hill. It doesn't have a lot of frills, but it's very tasty and satisfying. Flinchy's is a great place to go for all your American favorites, including another favorite of mine, their crispy wings with Asian sauce.
-Kristen
1794 The Whiskey Rebellion
1794 Whiskey Rebellion
has been open for a little over a year, but they've done enough to make an impression on me (and many others, as they're ranked the #1 restaurant in Carlisle, according to Trip Advisor). While I could make a case for Appalachian Brewing Company  (previously mentioned), the Molly Burger takes the top prize from me. The Molly Burger is a woodfired, 8 oz. burger topped with soft cow's cheese, house-cut Amish bacon, kale (I don't really do kale…so I had them hold that) on a brioche roll. If you want a little more, you can add a duck egg for $2. The burger is juicy, and the bacon is unlike most you'll find at other restaurants. I'm always a fan of a brioche bun, and it's done well here.
-Aaron