The Cumberland Valley is filled with historic landmarks and enlightening exhibits just waiting to be discovered. Here are some of our staff's favorite historical spots in the Valley…

Historic Salamanders
Imagine anyone's surprise to hear that Cumberland Valley has salamanders – not just the typical amphibian kind you might think of…more like the "industrial accident" kind.
At Pine Grove Furnace State Park, a great place to get immersed in our iron industry – you will see examples of salamanders, some are marked with signs. Salamanders in the context of our rich iron history is the pool of molten iron that accumulated on the bottom of the block of the furnace. There are many examples of these "industrial accidents" at Pine Grove Furnace State Park and many opportunities to collect other by products of this key industry, such as the colorful slag that some of our artisans turn into beautiful jewelry around here. If you like picking up sea shells at the beach or collecting rocks or leaves on your hikes; you will love finding the perfect piece of slag which can be found near the salamanders.
Further up the road, explore the ruins of Camp Michaux, a former church camp, Civilian Conservation Corps (CCC) Camp, and secret POW camp during WWII that also has links to the local iron industry.
-Shireen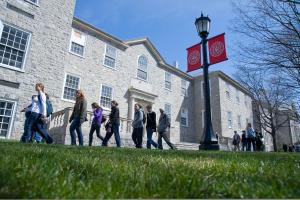 Historical Walking Tour
If you are a resident of Carlisle like I am, you probably walked by any number of historical markers in downtown Carlisle without actually paying attention to them. Next time you are out and about, either as a resident or a visitor, be sure to take time to read some of the markers and learn a little bit more about Carlisle's rich and varied history. A brochure about the wayside markers, produced by the Historic Carlisle Association, can be picked up at the Cumberland Valley Visitors Center or downloaded from VisitCumberlandValley.com. The brochure provides excellent background information and offers walking directions to each of 28 different locations.
A few of the more well-known locations relate to Revolutionary and Civil War history including the Old Graveyard, the Old Prison, the Dickinson College campus, and First Presbyterian Church. Some of the lesser-known sites include the Duncan-Stiles House, owned by Stephen Duncan, who later became the "King of Cotton" and was one of the South's largest slave owners, as well as the Richardson House, once the home of prosperous African-American Cyrus Richardson and later the childhood home of noted Impressionist artist Ruth A. Anderson. Combine your walking tour with stops at some of downtown Carlisle's restaurants and you have the makings of an enjoyable and relaxing afternoon.
-Stacey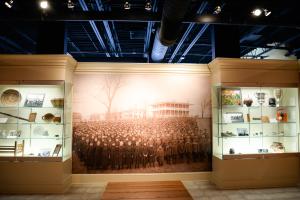 Cumberland County Historical Society
I feel like the Cumberland County Historical Society (CCHS) has the wrong name. I feel like a better name would be the "Cumberland County Awesome Multi-Faceted Entertainment Complex with a History Twist." For obvious reasons, they don't use that.
What makes the CCHS special is that they understand that history is about more than facts, but that it needs to be something a person can relate to. They have all of the features you would expect to find, like a lecture hall, research library, photo archives, events, museum and gift shop, but each piece is a little more special than that. For example, the upstairs museum has artifacts from Cumberland County history, but they start with the big story and tie in our piece. They talk about the telephone, but did you know that the first (non-patented) version was made by a Cumberland Valley local? The children's workshop features hands-on crafts by decade (currently the 60's – hello spin art!) and the annual Block Party includes a History Villain dunk tank. Coming this fall, they will be opening a Pocket Park to add some green space for outdoor programming and community enjoyment. They offer traditional programming and amenities too, but to me, their take on history is what makes them special.
 -Ashley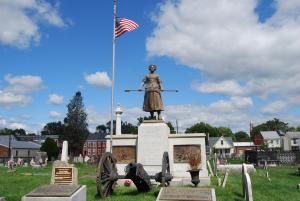 Molly Pitcher
I think that Molly Pitcher is one of the more fascinating historical figures from Cumberland Valley's past. This Revolutionary War heroine is part fact and part legend. She was renowned for her bravery during the Revolutionary War because she assisted her husband at his gun station during the Battle on Monmouth. Born Mary Ludwig, she supposedly got her name from running pitchers of water out to the soldiers. After her husband collapsed, she is rumored to have taken over his gun station and loaded the artillery. You can learn more about her at the Cumberland County Historical Society and view her grave and statue at the Old Public Graveyard in Carlisle. The Old Public Graveyard in Carlisle is also home to 750 veterans from the Revolutionary War through the Korean War and the burial ground for 550 Civil War veterans including the drummer boy for the 1st U.S. Calvary, Charles Seebold. After checking these places out, relax with a cold one at Molly Pitcher Brewing Company.
-Kristen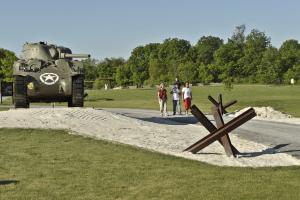 U.S. Army Heritage & Education Center
Our favorite place to experience history is the U.S. Army Heritage and Education Center's Army Heritage Trail. I love that we can learn about the real "ironmen" that fought for our country at the same time that we fit in our outdoor recreational time. The trail is a mile-long and has equipment, such as a Huey Helicopter and a Hellcat Tank. The kids love playing hide and seek in the bunkers and trenches, and they love racing from exhibit to exhibit (I love it too because they are able to get out some of their energy). The indoor museum is also a lot of fun – with the interactive Soldier Experience exhibit that tells the story of individual soldiers.
-Valerie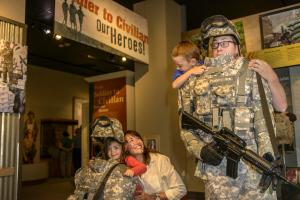 Mechanicsburg Museum
The Mechanicsburg Museum is a great place to spend an afternoon. The Museum Association preserves four 1800s buildings that help tell the story of the Cumberland Valley Railroad, a log tavern that predates Mechanicsburg, and a collection of items that reflect Mechanicsburg's history and heritage.They also offer a lecture series and several historic walking tours throughout the year. Your historic Mechanicsburg trip wouldn't be complete with a stop for a quick snack at Eckels, an old-fashioned ice parlor located inside an 1879 building.
-Aaron