The Cumberland Valley is known for many things. Fishing, auto shows, history, and hiking to name a few. The Valley is also known for its array for diverse restaurant options. Here are our staff's favorite places to eat…
Appalachian Brewing Company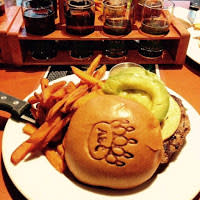 Before the craft beer boom over the last few years,
Appalachian Brewing Company
was one of the first in the area to serve locally-crafted brews in Central PA. ABC's local flavor is evident in its name with the nearby Appalachian Trail, as well as trail-themed menu items, and even a burger named the "Harrisburger." Speaking of the burgers, the menu has six different options like The Thru-Hiker, The Sasquatch, and The Switchback. Each burger comes on a toasted brioche bun with ABC's own paw imprint. ABC's craft beer selection has eight flagship options, including the Trail Blaze Maple Brown Ale, Mountain Lager, Chocolate Avenue Stout, and my personal favorite, Water Gap Wheat. If you're not a beer drinker or you're bringing someone under age, ABC also makes their own craft sodas and root beers. They have a few locations in Pennsylvania, and two in the Cumberland Valley, in
Camp Hill
and
Mechanicsburg
. ABC is one of my favorite restaurants in the Cumberland Valley because it has great food, flavorful beer, and quality service.
-Aaron
One of my favorite Cumberland Valley go-to lunch spots is
Café Magnolia
– on a warm sunny day, sitting on the deck and enjoying fresh, consistent, and tasty food. From large signature salads to yummy wraps and sandwiches – everything is seasoned and displayed perfectly and you will always go home with a box for just that moment when you feel the need to eat again. Prices are really reasonable and service is impeccable. My favorite wrap is the hummus wrap and my favorite salad is Jess's Favorite Salad in the Whole World. It must not just be Jess that likes this salad – look around the dining room and you will witness first hand why this is everyone's favorite salad. I love that you can substitute the normal side of pasta salad with fruit, fries, chips, sweet potato fries, cole slaw or greens – and they don't up-charge you. BYOB and order any dish – you will not be disappointed. In fact, you will have to go back for more – I've been doing this for 10+ years now.
-Shireen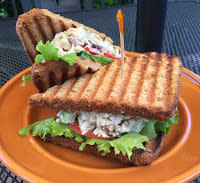 I love everything about
Cornerstone Coffeehouse
in Camp Hill…the people, the food, the artsy vibe, the coffee and the cozy setting. Check out my blog to see my favorites.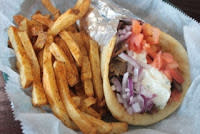 I had never tried Greek cuisine before visiting
Hellenic Kouzina
, and now I wonder how I ever lived without it! It is truly a treat to visit Hellenic Kouzina to devour chicken gyros, Greek fries, and feta dill dip. Lazy Saturdays are perfect for relaxing on the outdoor deck with a splash of your favorite BYOB wine and flaming Saganáki (imported cheese that is flambéed with brandy at your table). Be sure to save room for the baklava ice cream – it is divine!
-Ashley
Pizza Grille 
Like many families, pizza is a staple in my house. It's one of the only foods that everyone in the family enjoys. If we're in Carlisle when we're hungry, we stop at
Pizza Grille
. We start off with the Crab Pizza appetizer. If you like crab then you have to try it. The lump crab meat is fresh and delicious. My kids always love their Traditional pizza with tomato sauce and mozzarella. Other great options are the Five Cheese with Monterey Jack, Romano, Parmesan Mozzarella and Smoked Mozzarella; the Chicken BLT with grilled chicken breast, bacon, lettuce parmesan and mozzarella; and the Margherita with sliced tomatoes, garlic olive oil, basil and mozzarella.
-Rafael 
I have a childhood friend that is a lover of Italian food and we recently met at
Visaggio's Ristorante
for an early dinner. She hadn't dined there since college and was home for a quick visit so was happy to hear it was a favorite location of mine. Being a Cumberland Valley local, Visaggio's is a household name for fine Italian cuisine. She had heard the restaurant had gone through renovations since the fire in 2013 and was excited to see the changes. We decided to dine early, Visaggio's is dinner only and serves Monday through Saturday, and we selected the casual menu and atmosphere over the fine dining option. The restaurant added the casual option in their renovations and it works so well for customers like us that sometimes dine early or might want to include their younger children. This get together was just for two and our dress down Friday attire worked fine. The service and food were absolutely wonderful as expected and prices reasonable. I enjoyed the Pollo O'lynda, and my friend couldn't choose so she made two choices, Cannelloni (with meatballs) for now and their signature Lasagne for later. I said she loved Italian food. It was such a nice experience I look forward to visiting again soon with my family and yes that includes the children.
-Dawn