A new year is nearly upon us. A new year brings new events, new restaurants, new attractions, and new fun in the Cumberland Valley. Here's our staff's top picks for everything new and exciting in 2016.
In 2016 you can't miss the Cumberland County Historical Society's new Access to History pocket park! The lot has been cleared to make way for a small green space to expand the learning opportunities at this fabulous facility. Now visitors will be able to visit the existing museum, research library, children's workshop, gift shop and visitor center, plus spend a little time outside in the same downtown Carlisle campus!
Shippensburg Bloom Festival
Shippensburg's Bloom Fest will be back for its second year, bigger and better, on Saturday May 14th 9 am to 3 pm. This is a family friendly event that will surely get you ready for the spring planting season. Pencil in the date on your calendar and count the cold winter days down when Spring will surely arrive. Entertainment, great food, an interactive children's area filled with fun activities and for the adults lots of outdoor and plant materials to buy to get your summer garden in and your flower beds perked up with colorful posies. The Master Gardeners will be there to answer your questions and provide advice. I can't wait to see you in Shippensburg!
Bubba's Country Music Festival
If you haven't heard, Cumberland Valley is getting ready to welcome more country music stars in 2016. The 2nd Annual Bubba's Country Music Festival is returning to Shippensburg in September 2016. A NEW Saturday date is coming your way and will be announced soon, so keep checking the Cumberland Valley Events Page or Bubba's Country Music Festival Facebook page for updates. This one day event is sure to be a country music crowd pleaser and with family friendly ticket pricing makes it a great event every country music fan wouldn't want to miss.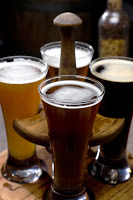 The wave of craft beer brings plenty of excitement, and that excitement is permeating around the Cumberland Valley. Among the rumored new local beer establishments, is Harty Brewing Company, scheduled to open in early 2016 in the Shops at Walden in Mechanicsburg. Harty Brewing Company joins the MollyPitcher Brewing Company, Pizza Boy Brewing Company at Al's of Hampden, Appalachian Brewing Company, and Market Cross Brewery as places to find locally-brewed ales, stouts, and malts. Learn more about the Cumberland Valley Beer Trail here!
I'm really looking forward to all the fun events that happen each year throughout the Valley. Some of my favorites include the Greek Fest in Camp Hill, Art & Wine Walk in Mechanicsburg, Foundry Day in Boiling Springs, Corn Festival in Shippensburg and the New Cumberland Apple Festival. Almost all of these events are free to attend and make for fun, easy weekend plans with friends! Find dates and more info at VisitCumberlandValley.com./Events.
-Kristen