Every now and then when you're trying out new restaurants, visiting new places to stay, or looking to be entertained, you find that gem. The Barn at Allenberry is such a place! Not only is it located on the beautiful Allenberry property, where you can rent a room to stay and enjoy a slow, relaxing vacation.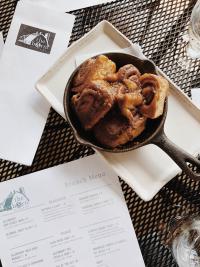 The food served at The Barn at Allenberry is not only delicious, but innovative for the area because of its farm-to-table ingredients and recipes! The setting is a mix of indoor and outdoor seating, a well-lit bar, and a rustic-chic setting. The Barn is a perfect place for lunch and dinner, or if you're in the area on Sunday morning you can enjoy brunch. Nothing sweeter than brunch and a mimosa!
Focused on serving up a homegrown taste and the occasional unusual flavor combination, The Barn at Allenberry is one that you'll want to visit with family and friends again and again. Then perhaps even enjoy a walk around the grounds or an overnight stay in the rooms and cottages that can be rented!
Be sure to stop by for a wonderful time and a meal you won't forget!