A visit to the Cumberland Valley may not immediately seem like a target destination for a 28-year-old traveling solo but the Central Pennsylvania region has many surprises and makes for a worthy trip for those seeking outdoor adventure and rural splendor.





I began my trip by stopping off at Al's of Hampden in Enola, a great pizzeria/brewpub hybrid and a worthy stop for those traveling through the Valley. A cold beer and pizza were exactly the remedy for my flight from Colorado.




After dinner, I checked in at Carlisle's Falling Tree Farm, an easily accessed bed and breakfast that still manages to feel a world away; tucked down a long dirt drive and neighboring preserve land, the inn couldn't be further in feel from the bustling road less than a mile away.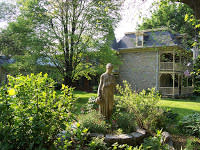 Homey and authentic, Fallen Tree Farm was a great place for me to rest up for my day of fly fishing the legendary streams of the Valley the following day.
I awoke to a well-prepared breakfast spread of quiche, blueberry tarts and melon, all prepared for me by proprietor Brent Hanlin. Brent and I chatted about the family's history with the property and I was impressed with his knowledge of the area and his desire to see historic properties such as his preserved, rather than succumb to ongoing development.
I left Fallen Tree relaxed, filled up and ready a full day of activities.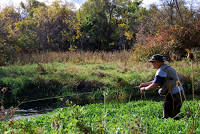 A visit to the Valley for a fly fishing trip had intrigued me for months. Hearing the Valley's LeTort Spring Run was among the
50 Places to Fly Fish Before You Die
excited me but I admit to having flipped through that book before without giving the LeTort a second look. I know now that was a mistake.
The LeTort presented some of the most challenging and humbling spring creek fly fishing I'd experienced in my life. Recognizing my struggles, my guide for the day, Jake Villwock of TCO Fly Shop, remarked with smile: "If you can fly fish Pennsylvania, you can fly fish anywhere." I believe him now.
Fly-savvy trout, gin-clear water and dense creek-side vegetation combine to create a frustrating fly fishing environment at the LeTort. It doesn't take long to realize why so many industry legends made their name there: Delicately presented flies are a must for anyone to be productive. It's a worthy challenge for any fly fisherman and one no one with the opportunity to try it should turn down.
Elsewhere in the Cumberland Valley there are plenty of more accessible and less advanced fly fishing streams worth of fishermen's time. A visit to Big Spring Creek was much more productive during my visit, plentiful small-sized rainbow trout were eager to take a fly.
The satisfaction of an enjoyable day spent in the outdoors, feeling a tug at the end of my fly line and reeling in a beautiful fish cannot be overstated. Releasing that fish to live to fight another day and be enjoyed by future generations in the streams of the Cumberland Valley was equally satisfying.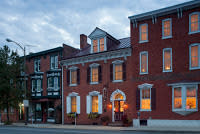 After finishing up my outing, I made my way into the charming town of Carlisle, where I checked

into the Carlisle House, the borough's renowned B&B. Owners Tim and Carolyn Carlisle greeted me warmly and instantly made me feel at home. I was guided to the spacious accommodations in "Jessie's Room" where I'd be staying the night.





Carolyn filled me in our their history, having acquired the inn from the previous long-term proprietors within the last year. Coming from Winston-Salem, N.C., she told me she and her husband instantly fell in love with Carlisle and the couple's enthusiasm for their new hometown was clear to see.




That evening I dined at Café Bruges, an authentic Belgian bistro. I couldn't resist sampling the famous frites and was guided by the friendly bar staff to two excellent Belgian beers I'd never tasted before. For my meal, I enjoyed an authentic Flemish beef stew, a hearty meal to round out a fully enjoyable day.




The following morning, I enjoyed a tasty breakfast of one of Carlisle House's famous international quiches and said goodbye to the Carlisles before setting out to Boiling Springs to travel the Cumberland Valley's section of the Appalachian Trail.




Arriving at the town's Appalachian Trail Conservancy office, I was greeted by the Michele Miller, who drove me to a convenient starting point heading northbound back toward the ATC office.




Under a full canopy of foliage I headed out solo on the approximately eight-mile section of the trail. The rolling hills provided moderately technical terrain as I moved over rocks and roots.




I took the time for a couple of detours—up White Rocks Trail and to the Alec Kennedy Shelter—before descending down from Center Point Knob, the trail's traditional midpoint.




Being the offseason, the trail was largely empty; I encountered one fellow trail runner and two hikers who told me they were heading as far as Harper's Ferry, W.V. They were eager to know how far they were from the hill's apex at Center Point Knob and I was delighted to tell them they were just minutes away. With a touch of skepticism they thanked me and we each continued on our journey.




After descending down from Center Point Knob I emerged into open agricultural fields, a unique feature of this section of trail. I took a moment to take in the vista; so jarring was it to emerge into working farmland from the dense foliage of Cumberland Valley's hills. It was one of the more unexpected and memorable parts of my trip.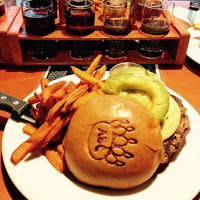 Shortly after, I emerged back into Boiling Springs, passing over the Yellow Breeches and passed Children's Lake before arriving back at the ATC office.
My time in the Valley almost up, I drove to Mechanicsburg for one last meal before catching my flight home. At the Appalachian Brewing Company, a local chain of brewpubs, I enjoyed a beer and burger at the bar as a lively crowd of lunching locals enjoyed their midday meals.
My visit to the Cumberland Valley offered plenty of surprises. Unique small shops, friendly locals and an abundance of outdoor activities made for a thoroughly enjoyable trip.

-Gus