One of the cool things about my job as a "Travel Expert" (yes, that is a self-appointed title) is that my job responsibilities include things like going out to eat, visiting new shops and getting tours of hotels.  It's important that I've been to the places that I recommend, because I want visitors that are taking my advice to have a wonderful experience.  A lot of times, that wonderful experience is based on being prepared - something that is difficult to do if you're not familiar with the particular destination.
In the spirit of preparedness and first-hand experiences, I decided to go hiking this weekend.

I am not an outdoors(wo)man.  I'm honestly not sure why I thought it would be a good idea to go hiking.  I'm going to blame it on another staff member, who told me last week that Pole Steeple wasn't that difficult of a hike.   "Go," she said, "it's not that difficult," she said.

The first step was finding Pole Steeple.  I knew it was outside of Pine Grove Furnace State Park, and I knew that we had information in our Visitors Guide and Official Map that would help me find it.  I read the Visitor Guide and got a good idea of where the trail was, and then used the map to find out where the parking lot was.  Once I got close to the park I was relieved to find there was directional signage - I pretended like I knew what I was doing, but really, I'm not a map person.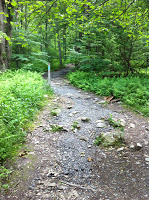 Trail Head
I parked my car and pulled my sneakers on.  The parking lot is on the far side of the lake - it was a pretty hot day and the lake was packed with playing kids and fishermen in boats.  The parking lot also held two other groups preparing for a hike - a dad with two small girls and a mom and her teenage daughter.  Both parents had on hiking boots, but the kids were all in sneakers so I figured I'd be okay.

2:30 p.m. I followed the sign in the parking lot to the trail head and snapped a picture.  This looks awesome!  Nice, easy hike leading to a spectacular view of the whole park!  I wonder why I didn't do this sooner?

2:35 p.m. The trail gets steeper.  I must have been walking too fast; I'm breathing heavily.  The noise from the lake has died down and it should be peaceful, but all I can hear is my own breathing.  I watch a man sprint down the trail and resist the urge to trip him.  This is embarrassing!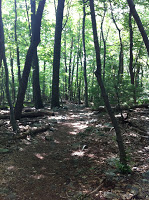 The Clearing
2:40 p.m. There is a split in the trail; "steep" and "less steep."  I'm practically wheezing - there is no contest.

2:43 p.m. I take a quick break.  I'm not sure I'm going to make it.  I send a quick text message to a friend so it doesn't look so obvious that I'm just standing there, and inform him of my pending defeat. 

2:50 p.m. My calves are on fire.  I can see the mom and teenage daughter still ahead of me on the trail.  Thankfully, the trail levels out for a little bit and I go through a nice clearing.  I pass another hiker on the way down and she looks so zen and peaceful.  I reason the top must be just beyond this clearing.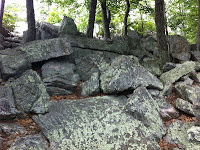 The Rocks
2:53 p.m. The trail veers to the left after the clearing, and for a very brief amount of time I'm on the Appalachian Trail.  I'm too tired to really care.

2:55 p.m. I'm looking at a STEEP, rocky climb.  I must be getting close!

2:57 p.m. These are huge rocks!  I know that one of two things lie at the top of the pile: the vista, or my death.


3:00 p.m. It's the vista!  I've seen photos of the rock outcropping before, but it's something you really need to experience to appreciate.  I can see the lake, and miles and miles of tree-lined mountains.  There are a lot of people at the top, and they all look as hot and sweaty as I do.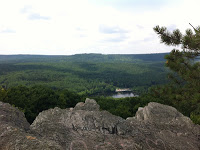 The blue spot is the lake!

I spend a lot of time at the top, not only to catch my breath, but also to really enjoy the view.  Another couple brought binoculars and were able to pick out several park features.  There are a lot of unmarked trails once you get to the top of the outcropping, and people veer off in many directions.  The mom and daughter duo go down over the front of the rocks on a steep trail, one gentleman repels down, and everyone else wonders back down the back of the rocks to the trail.

The walk back down is all downhill and a lot easier.  I finally get to see all of the things I missed on the way up, including the small section of the Appalachian Trail, small animals in the trees and the overall calmness of the wooded setting.  I encounter another couple hiking up, and the woman looks much the way I did on the way up.  I promised her she was almost there and that it was definitely worth the view!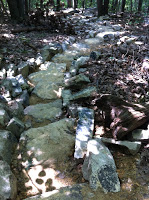 The Steep Trail
I took the steep trail down.  It is almost like a stone staircase - very cool!

Overall, I really enjoyed the trip.  I wish I would have started out a little slower so that I wouldn't have been out of breath so quickly, but the hike wasn't that terrible.  I saw a lot of families hiking with small kids and even dogs, and all seemed to be loving the journey.

Suggestions:  If you are going to take this hike there are a few things you should do to be prepared.  First, wear sturdy sneakers.  My gym sneakers were too thin and a lot of the rocks hurt my feet.  I also had trouble with balance since I didn't have any ankle support.  Next, be sure to keep your hands free.  When you get to the top, you'll need both hands to navigate the rocks.  Don't forget to bring bug spray and a camera.  Finally - don't hike alone!  Make sure to take a friend to share the view with.