Over the weekend I was entertaining some company and decided to visit the new exhibit, The Soldier Experience, at the US Army Heritage & Education Center.  I had heard from others that had visited the exhibit that it was pretty awesome, and they were right!
My favorite part of the exhibit was that you could spend as much or as little time wondering through each area as you pleased.  There were areas for each of the major wars that the US has been involved with, culminating in a changing exhibit that currently features Civil War history.  For visitors with a casual interest in history, like myself, there were large displays with short descriptions that captured the feel of each engagement.  These displays featured a tank, uniforms, weapons and artillery.  For visitors with a deeper interest, there are small display cases full of artifacts and descriptions, more in-depth videos to watch at each display and tons of snippets of info all over the walls.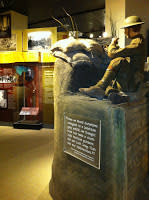 The exhibit is also family friendly.  I saw all ages - ranging from babies in strollers to retired veterans perusing the 7,000 square foot exhibit.  Kids will love the interactive stations that include a taste of boot camp, a simulated firing range, a parachute drop and even photo ops in full army gear.  Visitors are encouraged to pick up some of the artifacts, like firearms, to understand the weight of the weapons that soldiers carried during battle.  You can even write e-mails to soldiers stationed overseas during your visit!

If you visit, don't forget to pick up a dog tag from the Visitor Information desk.  The dog tag will have a bar code on it that when scanned, will allow you to hear the story of that soldier's life as you make your way through the exhibit.  It is truly a unique way to learn about military history!