Two weekends ago my in-laws came to visit. Normally I would make a bunch of plans for the group but the whole weekend was relaxing and fell into place...I'm sure the nice weather didn't hurt either!
On Saturday morning the girls got up and headed over to the
West Shore Farmers Market
(always a fan favorite for those not from the area). We ended up with the adorably tiny sticky buns from Harners, a variety of vegetables, some pretty fall decorations from Liberty Primitives, and fresh-squeezed orange juice which was expensive but delicious! We dropped off some orange juice and sticky buns for my husband and his dad and headed out again.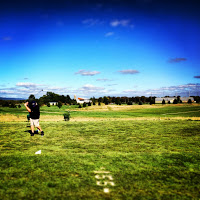 We stopped at
Highland Gardens
next and picked up mini pumpkins, gourds and mums to decorate the front porch. After that we still had time, so we hopped over to
Christmas Tree Hill
in Camp Hill. I was really impressed with this store, everything was well organized and very open so you didn't feel cramped. They had TONS of ornaments, probably anything you could dream up they had an ornament for. It wasn't just "Christmas themed" though, they also offered a great selection of Vera Bradley, accessories, home decor and children's items.
After a morning of shopping we all went to play 9 holes at
Rich Valley Golf
. This course has become a favorite in our household because it's open, not too challenging and offers pretty views.
I was pretty tired Sunday morning but my friend called me and asked me to do something "outdoorsy". It was another beautiful day so I agreed and recommended the fitness trail at
Messiah College
. The trail had a few runners but mostly people walking and we got a few cool pictures of the covered bridge (see above). Afterwards we grabbed ice cream at Maggie's Italian Ice & Custard in Mechanicsburg, figuring it would probably be the last summery weekend before fall sets in.