Oakes Museum at Messiah College
. The attendees were very
impressed by this hidden treasure and all the African animals they have on display. The bus then cruised on to
Williams Grove Speedway
for a quick tour and then to
Ashcombe Farm & Greenhouses
for refreshments and some shopping.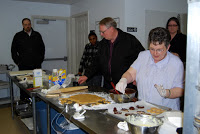 After that it was off to lunch sponsored by
Isaac's Deli & Restaurant
and back on the road for more shopping at the
West Shore Farmers Market.
The afternoon also consisted of exploring the
Rolls Royce Museum
, one of the only research facilities for Rolls-Royce and Bentley cars and the
Mechanicsburg Museum Association
and Station Master's house. The day came to a close at Derry Church Chocolates for a chocolate making demonstration and tasting. The group had a blast and I would definitely recommend any of these places for something new and different to do.