Mid-Late October is one the absolute best times to be a sports fan. The NFL and College Football are within the first two months of a new season, the NHL and NBA are just starting their new seasons, and MLB in it's postseason. It is the only month that all four major sports organizations have meaningful games, which means there's a plethora of sports to watch. You can try and use picture-in-picture feature or the previous channel button on your remote, but you're likely missing out on that 60-yard touchdown pass or that incredible walk-off homerun.
There are a few solutions to this problem. 1) Buy 10 TVs and set them up around your home so you don't miss a second OR 2) Grab your friends, go to the local sports bar/restaurant, get some food your doctor would tell you not to eat, and watch continuous, non-stop sports. I like option #2. Cumberland Valley is lucky to have some fantastic, big-game dining options. Here are my Top 5.
Duke's wins awards for their happy hour and beautiful riverside deck, but inside offers something more to sports fanatics. The bar area features 22 televisions for multiple game options, plus they have their famous Maryland Crab Pretzel on the menu to snack on.
One of the struggles of rooting for a team outside of the market (Philadelphia, Baltimore, Pittsburgh) is finding them on cable. Luckily, the NFL Sunday Ticket was created for pubs like Al's to carry games from across the country. Al's is a fun place to watch the game in Green Bay or Miami, but the best part about Sundays at Al's has to be the buffet. From 11am – 6pm, the reasonably priced buffet has several different pizzas, wings, and various other food options. If you're going to watch your favorite team, get there early and request to have them on.
When your slogan is "Wing, Beer, Sports", I'm pretty sure you've found the perfect formula. Buffalo Wild Wings created a marketing campaign around not wanting the game to end and enjoying the comradery of watching the game with your friends and strangers. With 16 signature sauces and dozens of televisions, B-Dubs might be as close to heaven on earth as you can get.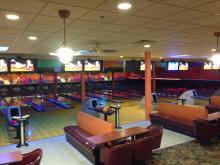 The Coliseum is an interesting addition to this list. Below the enormous arcade and What If…West restaurant, sits a sports bar with a loaded menu. While you're likely to find the game you want is on all of the TV's at the bar, the real reason for the Coliseum's placement on this list is a few feet away from the actual sports bar. Imagine being there on Sunday afternoon for the Eagles game and stuffing your face with cheeseburgers. The 1pm game ends, but you want to stick around for their rivals' Cowboys game at 4:25. You can remain at the bar and wait for the next game to start or grab your friends and go bowling! The Coliseum has several bowling lanes with projection televisions above so you don't miss anything. You can also defeat your buddies in more than just fantasy football. Menu-wise, the Build Your Own Pizza could last you all day and is really delicious.
The pinnacle of sports restaurants in the Cumberland Valley. With over 100 televisions and every major sports package, Arooga's is destination #1 for sports fanatics every night of the week. Whether it's a UFC fight on Saturday night or the NFL on Sunday, Arooga's will have what you're looking for. Not only are the games everywhere (including the Mechanicsburg location with four gigantic projector screens), but also some seating locations even come with your own private television monitor to assure that you're watching the game you want. Aroogas has some of the finest sports food around, including dozens of award-winning wing flavors, cheeseburger sliders, and Philly Cheesesteaks. In addition to the quality of the menu and sports everywhere you look, each location has a number of craft beers, most locally made. I usually make it a point to go to Arooga's and watch games at least once a year.