I had never been to a ballet before, so when I heard that the C
entral Penn Youth Ballet
was performing the World Premiere of "Hansel & Gretel" I purchased my tickets right away. I was excited that it was a child-friendly performance - i.e. shorter and a little easier to follow for someone like me who doesn't know anything about traditional ballet. My experience definitely was not disappointing.
The show was about one hour long and there were lots of little people (kids) in attendance. The girls came in their sparkly dresses and some even wore crowns. I witnessed a little girl twirling about in the lobby waiting for the show - they were all excited.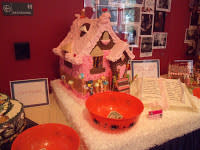 I was impressed with the choreography for the show. It was not what I expected. The most spectacular scene was when the witch was chasing Hansel and Gretel: there was an elaborate set with moving tables, about 20 chefs and lots of action. My second favorite part was a group of angels in flowing white gowns who performed a series of formation changes as they danced.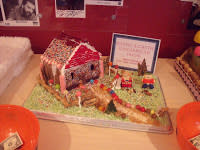 Along with the ballet was a fundraiser for Project SHARE. Four bakeries made themed cakes to display, and you voted for the best cake by donating quarters in a bowl beside the cake. Although all the cakes were fantastic, one was exceptional and obviously the crowd favorite.
The next performance by the Central Penn Youth Ballet will be The Nutcracker on December 11 & 12.