The Pennsylvania countryside at the midpoint of the Appalachian Trail is one of the most visited regions in the Keystone State and an ideal destination for craft beer lovers as well as aficionados of small batch wine, spirits, and cider. Nestled in the heart of this region is Cumberland Valley where visitors will find a picturesque crossroads that combines spectacular outdoor scenery with historic downtowns, all within an easy drive from Philadelphia and Washington, D.C. Whether you want to hike the Appalachian Trail, "trek" along our ever-growing Beer Trail, or do both, you'll find an assortment of up-and-coming microbreweries, cideries, distilleries, distinctive restaurants, and trailblazing taprooms -- all surrounded by the quiet, natural beauty of the Cumberland Valley.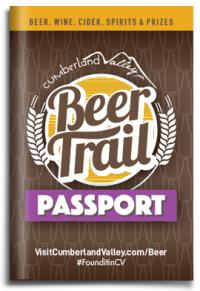 Before you hit this trail, be sure to download the Cumberland Valley Beer Trail Passport or pick up one at any of the locations along the trail or at the Cumberland Valley Visitors Center. Then start collecting stickers from each of the participating locations and win prizes for visiting 5, 15 or 20 locations. As a bonus, every returned passport gets a coupon sheet of deals along the Beer Trail encouraging you to return and complete another passport.
An eclectic lineup of more than 25 breweries, restaurants, cideries, wine shops, and distilleries dot the landscape of Cumberland Valley from the Chambersburg area all the way to downtown Harrisburg. In between, you will travel on Cumberland Valley's highways or scenic roads and experience all that this region has to offer. Because there's more than just beer flowing in Cumberland Valley. We have a wealth of things to do, including restaurants, outdoor activities, visual and performing arts, seasonal festivals, and comfortable accommodations. So make a trip of it and get your Cumberland Valley Beer Trail Passport stickered and stamped. This Pennsylvania valley will definitely win your stamp of approval.
Plan your #WeekendEasy Cumberland Valley adventure at visitcumberlandvalley.com.