Note: The Cumberland Valley Beer Trail has expanded to more than 25 locations and now includes prizes for visiting 5, 15 and 20 locations. Check out updates here.
The Pennsylvania countryside at the midpoint of the Appalachian Trail is one of the most visited regions in the Keynote State and an ideal destination for craft beer lovers this summer. Cumberland Valley is perfectly placed for summertime getaways and good times, a picturesque crossroads that combines spectacular outdoor scenery with historic downtowns, all in a location that's an easy drive from Philadelphia and Washington, D.C. Right next to the Appalachian Trail, artisan craft beer lovers will find that the Cumberland Valley Beer Trail offers a trek of a different kind, with an assortment of up-and-coming microbreweries, distinctive restaurants and trailblazing taprooms.
You'll want a helpful and fun guide before you hit this trail. The Cumberland Valley Beer Trail Passport is available for download online, or pick one up at any of the locations on the Cumberland Valley Beer Trail or at the Cumberland Valley Visitors Center. The passport is ready to be checked across the board with a collection of stickers from each of the participating breweries, restaurants and wine shops, and once it has five, 10 or more stickers, mail it in for a chance in the monthly drawing for a gift certificate. As a bonus, every returned passport gets a coupon sheet of Cumberland Valley deals.
An eclectic lineup of 15 pubs and breweries, the Cumberland Valley Beer Trail is laid into three unique sections of Cumberland Valley.
From the borough of Chambersburg just 15 miles north of Maryland and the Mason-Dixon line, you'll find a stretch to historic Carlisle including the Roy Pitz Brewing Company, the renovated Queen Anne Victorian charms of the Castlerigg Wine Shop,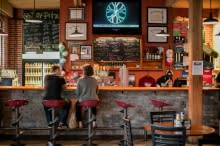 English pub gem Market Cross Pub & Brewery, traditional Belgian find Cafe Bruges and Molly Pitcher Brewing Co. in downtown Carlisle.
On the eastern stretch between Carlisle and nearby Mechanicsburg, the beer trail pops with craft beer and soda pub the Appalachian Brewing Company, the handcrafted, small-batch selection of the Harty Brewing Company, dessert wine tasting room Larsen Meadworks and Mechanicsburg's dinner house (with the "mug club"!)  T.J. Rockwell's.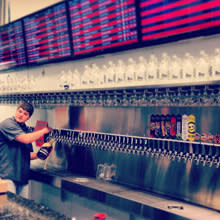 Between Mechanicsburg and the west shore of the Susquehanna River, the spacious "home of the double pint" Ever Grain Brewing Co. offers a vanguard industrial setting. Al's of Hampden has more than a hundred beers on tap. Camp Hill's Brewhouse Grille features classic American fare with generous portion sizes and an impressive selection of craft beers.
No matter when you make a weekend visit, Cumberland Valley has a number of inspired events along the beer trail, from dinner cruises and craft classes to mud runs, and a packed calendar of seasonal events too.
The beer trail pairs nicely with a ride and some Cumberland Valley hospitality, with plenty of transportation options available. A range of places to stay in Cumberland Valley gives you options in the country or right downtown.
Because there's more than just beer flowing in Cumberland Valley—with a wealth of things to do, including restaurants, nightlife, outdoor activities, and visual and performing arts—make a trip of it and get your Cumberland Valley Beer Trail Passport stickered and stamped. This Pennsylvania valley will definitely win your stamp of approval.
Plan your Cumberland Valley adventure at visitcumberlandvalley.com.