Cumberland Valley Events
Every season is event season in the Cumberland Valley! Grab your family and friends and head out to explore the unique collection of events in The Valley. We have just the event for any passion. Savor delicious delicacies at our food and wine walks and festivals, discover a dazzling performance at our downtown theaters or get a blast from the past at our historical attractions.
Looking for some personal recommendations? Find out the locals' favorite events in Carlisle, Mechanicsburg, Shippensburg, and everywhere in between on the Cumberland Valley PA Travel Blog.
Disclaimer: The Cumberland Valley Visitors Bureau provides information about upcoming events as a service to our visitors and local residents. This information is gathered from reliable sources or is provided by the organizers of the event. While we try to ensure accuracy, it is still possible that some information may be incorrect. Events are occasionally cancelled, postponed, rescheduled or sold out and we may not be aware of these changes. We recommend checking with the organization hosting the event to verify details. Though the calendar is moderated, a listing does not imply endorsement by the Cumberland Valley Visitors Bureau.
Find A Room
Call (877) 840-2923 to book by phone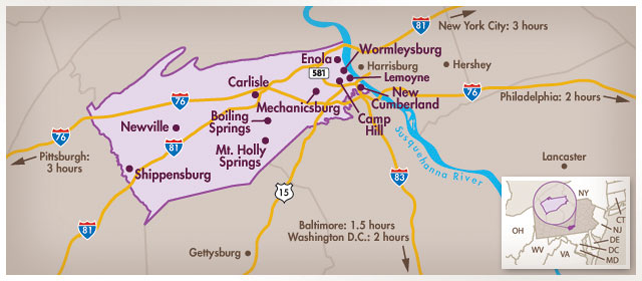 Explore the Valley using the map to the left or find activities and places to stay using the
Interactive Map