Why Choose Cumberland Valley
Where Unique Venues and Great Value Meets
Meeting planners often find themselves at a crossroads while trying to meet their next event's objectives - find a great meeting venue at a great price with after-hour activities nearby for a variety of interests and age groups. 
You'll find even more than you planned for when you meet in Cumberland Valley. Sure, we have the perfect venues for hosting business functions, staff retreats, class reunions and other events. In fact, our conference centers and hotels are second-to-none when it comes to helping you conduct successful meetings. But, our location also offers a combination of features that's hard to find in the Northeast corridor: easy accessibility from all major cities, close proximity to dozens of key attractions and great value for everything from shopping to night life. So, when your business guests are ready to leave work behind for the day, or your family needs some personal space, Cumberland Valley offers even more than they gathered for.
You'll also find one-stop confidential event planning help from our dedicated Sales Team.  Your personalized service includes resources such as RFP distribution, planning assistance with guest speakers, attractions, restaurants, spousal programs, theme parties, children's activities and promotional material, FAM tours, welcome bags for attendees and more.
So what you'll really find in Cumberland Valley is meeting success.  Found it.
Find A Room
Call (877) 840-2923 to book by phone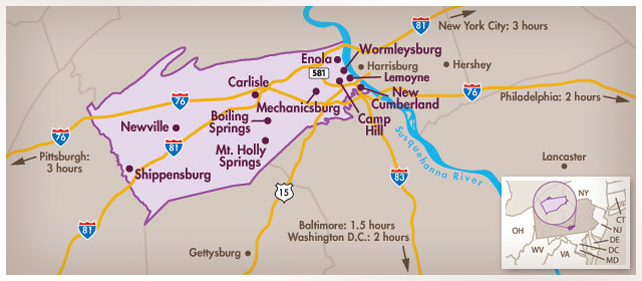 Explore the Valley using the map to the left or find activities and places to stay using the
Interactive Map