Other Potential Funding Sources
In addition to the Cumberland Valley Tourism Sales & Marketing Grant, Tourism Product Development Grant and the Tourism Infrastructure Loan (TILF) there are a number of opened or upcoming grants and programs that your organization may be eligible for.
Please note, there is no guarantee that your organization will be eligible for application to the below programs or receive funding. These programs are not affiliated with the Cumberland Area Economic Development Corporation.
DCED: Greenways, Trails and Recreation Program (GTRP)
Projects which involve development, rehabilitation and improvements to public parks, recreation areas, greenways, trails and river conservation. Learn more
DCNR Community Conservation Partnership Program
DCNR has grants for trails, conservation, development and more. Learn more
Fund Your Park
The first ever crowdfunding site designed specifically for local parks and recreation through The National Recreation and Park Association (NRPA). Lean more
History-POPS!
Cumberland County Historical Society's History-POPS! program makes funds available for county-history related projects, outreach and publications ranging from $250 -$1,500 and history scholarship awards at the $500 and $1000 levels. Learn more
Keystone Historic Preservation Grant Program
Grants support projects that identify, preserve, promote and protect historic and archaeological resources in Pennsylvania for both the benefit of the public and community revitalization. Learn more
Land Partnership Grant Program
This grant provides financial assistance to municipalities and non-profit organizations for the purpose of agriculture preservation, natural resource protection and creation of parks, trails & greenways. Learn more
LL Bean
Funding for local, regional and national nonprofits to help conserve natural spaces, ensure access to outdoor recreation and support our local communities. Learn more
Municipal Assistance Program (MAP)
Funding is available for three groups of activities: shared services, community planning and floodplain management. Learn more
National Endowment for the Arts
The Our Town grant program supports creative placemaking projects that help to transform communities into lively, beautiful, and resilient places – achieving these community goals through strategies that incorporate arts, culture, and/or design. Learn more
Pennsylvania Council on the Arts
A variety of grant programs are available for public art programs, technical assistance and consulting. Learn more 
South Mountain Partnership Mini Grant
The Mini-Grant Program is intended to: Implement projects to protect and promote the Landscape Resources of the South Mountain region; Integrate thinking and approaches across disciplines and geography; Build and strengthen collaboration amongst partners across the South Mountain landscape. Learn more
The Foundation for Enhancing Communities
Arts for All Partnership - Funding to nonprofit organizations for free public performances for families, ticket subsidy program that fill houses, innovative programs that engage and build young audiences and education outreach programs in the Capital Region. Learn more
Camp Hill Community Foundation - An annual competitive grantmaking program for nonprofit organizations serving Camp Hill to fund programs and services that have the potential for the greatest impact on the quality of life and positive outcomes for individuals and families living in Camp Hill. Learn more
Mechanicsburg Area Foundation - An annual competitive grantmaking program for nonprofit organizations serving the Mechanicsburg area to fund programs and services that have the potential for the greatest impact on the quality of life and positive outcomes for individuals and families living in the Mechanicsburg area. Learn more
USDA Value-Added Producer Grants
The VAPG program helps agricultural producers enter into value-added activities related to the processing and/or marketing of value-added products. Generating new products, creating and expanding marketing opportunities, and increasing producer income are the goals of this program. Learn more
Cumberland County Housing and Redevelopment Authority (CCHRA)
CCHRA offers a variety of loan and grant programs for businesses in Cumberland County:
Find A Room
Call (877) 840-2923 to book by phone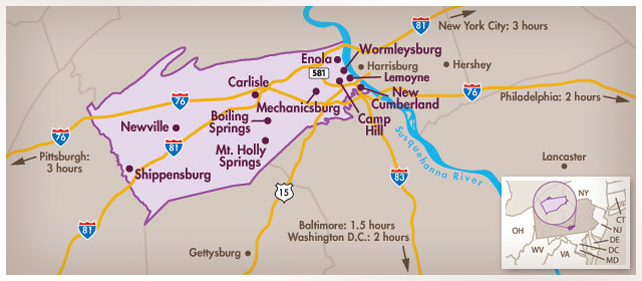 Explore the Valley using the map to the left or find activities and places to stay using the
Interactive Map