Carlisle Chevrolet Nationals
June 21-22, 2019
Home to a diverse group of General Motor vehicles, from vintage muscle to the modern Camaro, Carlisle is the place to be in June. Buckle up for the Carlisle Chevrolet Nationals as there are many activities going on. Unique and rare vehicles are always part of the show schedule, there are automotive thrills too and you can even find yourself sitting behind the wheel of a top-fuel dragster as it goes through its warm-up process. Smell and FEEL the power first-hand at Carlisle. 
New in 2019, Hurst Nationals powered by Carlisle Events, becomes part of Chevrolet Nationals weekend. The Hurst show features a 15 to 20 car display, memorabilia, seminars, and Hurst-related celebrity guests and engineers. 
Beyond cars, the Carlisle Fairgrounds is known for its delicious food vendors. They offer great fair-style food such as pizza, hot dogs, funnel cakes, ice cream, BBQ, crab cakes, kettle corn and much more.
The fairgrounds will be packed and offer an automotive flea market with a wide variety of vendors, a car corral and more. Daily admission Friday and Saturday is $10. Children under 12 are free.
Include these other auto attractions in your visit to Cumberland Valley. Combine all these nearby things to do and more by following our 5-day Motorin' trip idea.
Looking for a nearby restaurant in Carlisle or a great spot with outdoor seating? Browse our dining options below.
With all these great things to see and do at Chevrolet Nationals and the surrounding Cumberland Valley, you'll want to stay the whole weekend. Compare rates, find car-friendly amenities and book online at the Official Lodging for Carlisle Events.
Carlisle Pennsylvania, and the surrounding Cumberland Valley, are easily accessible with connections via Interstate-81, I-76, I-83 and US 11/15. Our convenient location, just two hours west of Philadelphia and two hours north of Baltimore and Washington D.C., makes getting here a breeze. We are also surrounded by popular destinations like Hershey, Harrisburg, Lancaster, York and Gettysburg and 30 minutes from the Harrisburg International Airport and Amtrak Station.
Find A Room
Call (877) 840-2923 to book by phone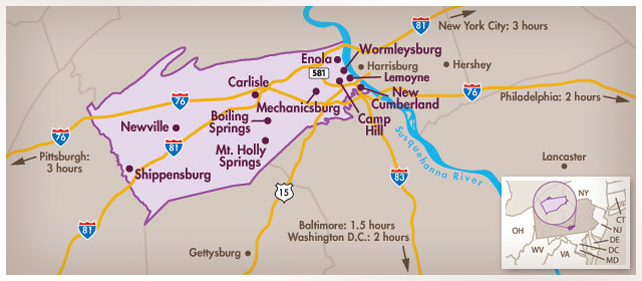 Explore the Valley using the map to the left or find activities and places to stay using the
Interactive Map