Cumberland Valley Beer Trail FAQ
How do I participate?
To participate in the Cumberland Valley Beer Trail, pick up a passport at a participating location and request a sticker when you visit a location listed inside. Passports can also be picked up at the Cumberland Valley Visitors Center in downtown Carlisle.
Why aren't all of the participating locations open?
We've included a few locations on the Beer Trail that will be opening soon. Since the passport is a printed piece, we wanted to make sure information was available for when the location does open. These locations are not required to visit for the passport holder to be eligible for prizes.
The passport requires 21 stickers to be entered in the quarterly drawing, but there are only 20 open. What do I do?
Since printing, Grain & Verse Bottlehouse closed. You now only are required to receive 20 stickers to be eligible for the quarterly drawing.
I finished one of the original passports, why do people that finish the new passport get more prizes?
We printed the first passports in April 2017, and quickly received feedback about the locations and prizes. When we reprinted the passports in August 2017, we added more locations and prizes. If you received 5+ stickers the original passport, you will receive a bottle opener in the mail.
I have the original passport, do I need to update to the new passport?
If you are currently working on the original passport, just send both passports in together.
When will I receive my prize?
Please allow 4-6 weeks for your prize to be delivered. We will try our best to accommodate t-shirt sizes.
Is purchase necessary to receive a sticker?
No, purchase is not necessary to receive a sticker.
Can I turn in more than one passport?
Yes, we encourage you to continue to support our local breweries, but please understand that prize supplies are limited. We will do our best to accommodate multiple passport submissions.
I own a brewery/I am opening a brewery; how do I participate in the Beer Trail?
The Cumberland Valley Beer Trail is open to breweries in Cumberland Valley and immediately outside the county border. Send an e-mail to beertrail@visitcumberlandvalley.com to tell us about your brewery!
Can restaurants participate/why are there restaurants on the trail?
The first version of the passports included specialty restaurants. Moving forward, no additional restaurants will be added to the passport.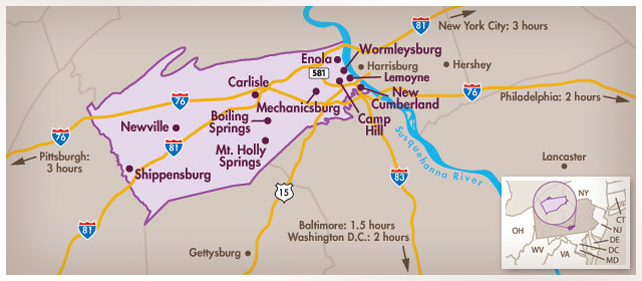 Explore the Valley using the map to the left or find activities and places to stay using the
Interactive Map