Civil War Sites in Cumberland Valley
Experience the heart and history of the Civil War throughout Cumberland Valley. Discover the American Civil War and Confederate invasion where it happened through visits to historic sites, museums, markers, and unique events. Read more about All Things Civil War and some suggested highlights.
There are 43 Pennsylvania Civil War Trail Markers, 5 of which are located in Cumberland County.
Download "The Road to Harrisburg" and "The Road to Gettysburg" to explore two longer road trips that take visitors through scenic south-central Pennsylvania to follow the trail of the Confederate and Union Armies in the days leading up to the Battle of Gettysburg. In towns such as Chambersburg, Boiling Springs, Carlisle, Mechanicsburg, Camp Hill, Harrisburg, York, and Lancaster, you can visit battlefields, museums, and other locations that tell the silent, lesser-known stories endured by those living here.
Find A Room
Call (877) 840-2923 to book by phone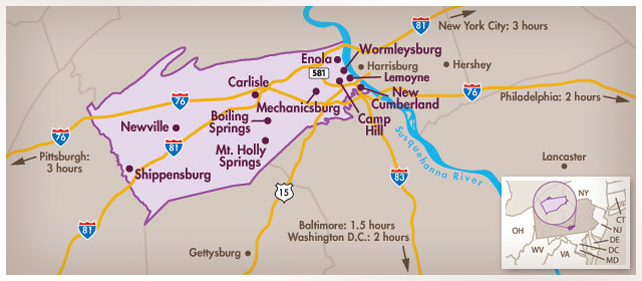 Explore the Valley using the map to the left or find activities and places to stay using the
Interactive Map