Journey to Historic Downtown Carlisle
When traveling through the tree-lined streets and historic buildings, you begin to feel something special and unique about Carlisle. It is an atmosphere that is unmatched...a reflection of days gone by, but also in-the-moment excitement with each distinct possibility. It's a quiet and relaxing downtown during the day, but wait until you see the town light up on First Friday or during a car show weekend. Everything from shopping to fine arts, from Dickinson College to the Carlisle Theatre...all within walking distance.
One of the unique opportunities in Carlisle is the ability to taste foods that span the globe. Sporting almost 20 restaurants within a few shorts blocks of each other, you can dine around the world with tastes from different culinary styles, including Belgian, Italian, Japanese, English, Thai, and more.
A great start to your journey in downtown Carlisle is the Cumberland Valley Visitors Center on High Street. The Visitors Center features maps, brochures, and informative staff to answer all of your questions and provide great tips around the town. Attached to the Visitors Center, visitors can show for gifts and artwork at History on High.
Shopping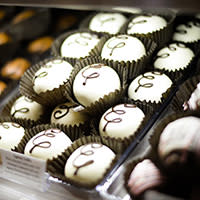 So you've got your maps and you're ready to explore downtown Carlisle and you start your trek on High Street. Whistlestop Bookshop offers a variety of cards, postcards, and of course, books! To express your styles and check out the latest fashion, the clothesVine is a mother-daughter run clothing boutique. If you're feeling nostalgic, visit Georgie Lou's Retro Candy and be reminded about your wonder years. By now, you've probably done some shopping and maybe your feet are a little weary. Don't fret, Warm Springs Salon and Day Spa sits on West High Street to relieve some of that tension and allow some relaxation. If you are feeling creative, walk across the square and head to Create-a-Palooza, a "paint your own" art and activity studio for all ages.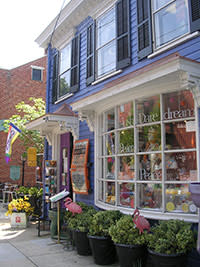 Let your shopping excursion continue with Shop The Block On Pomfret Street, which features several diverse items to pick up. Check out trendy and elegant clothing at the Boutique on Pomfret or shop for some unique items at Pat Craig Studios. Those interested in fun jewelry should make their way to Marjorie's Gems and shop their collection. Book enthusiasts will love Pomfret Street Books and their selection of over 40,000 titles. If you're feeling the need for a quick break, enjoy Camellia's Sin Tea Room & Gift Shop, which was recently ranked in the top five tearooms in Pennsylvania.
Head to West Chapel Avenue, a small alleyway behind Pomfret Street, to find two hidden gems. Earth Artisan & Outfitter is the only source for outdoor inspiration in downtown Carlisle with a variety of photography, fine arts, goods, and gear. Nearby, Feathers in the Nest offers vintage decor and upcycled furniture to decorate your home. 
Shopping doesn't end there. Hanover Street provides a collection of shops for everyone. Musicians will be inspired at JW Music, where they can get advice, learn a new instrument, or pick up something to try. Visit the greatest gift to pick up some unique items for your loved ones or stop by No Common Scents for artisan bath and body items. Find vintage clothing styles at Miss Ruth's Time Bomb or find affordable, gently used name brand items at 2nd Time Around Consignment Shop. Cole's Bicycle Inc. is a great place to shop for bikes and bike accessories and what better way to try out your next bike than using the Carlisle Bike and Pedestrian Trail Network.
Antiques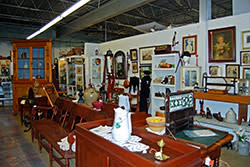 Antique collectors will love Downtown Carlisle with several places to visit and shop. The Northgate Antique Mall offers a compilation of over 70 vendors with a wide variety of vintage collectibles, including military artifacts, coins, glass, and jewelry. For antique home furnishings for bedrooms, offices, and living rooms, visit Antiques on Hanover Street. Another antique shop on Hanover Street is the Serendipity Antique Gallery, featuring vintage coins, collectibles, jewelry, and arcade machines. If that's not enough to build your own antique roadshow, Bedford Street Antiques may be the icing on the cake, with over 100 diverse vendors. The recently-opened Carlisle Antique Mall completes your search for treasures by offering 35,000-square-feet of space in a restored 1920's-era building that is reminiscent of a vintage department store.
Arts & Culture Paints A Masterpiece Downtown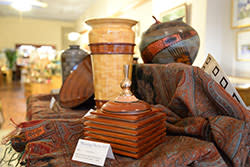 One area of Carlisle's historic downtown that's noticeably on display is the arts and culture. We can't think of a better example than the Carlisle Theatre. Once known as the Comerford, this landmark opened in 1939 and grew to include musical acts, live theatrical productions, and award-winning films. The theatre also recently upgraded to digital capabilities.
There are also some very creative and passionate art displays throughout downtown Carlisle and you won't want to leave without taking some of them home. The American Artisan Gallery on Hanover Street offers beautifully crafted art items, including ceramics, glass, jewelry, and fine art. It's no wonder they were named 2014's Best In The Valley for Best Shopping. Since opening in 1976, The Garden Gallery has showcased fine art and crafts, and is famous for their custom framing and restoration. Unique glasswork art is the specialty at LeTort Glass, where you can leave with some art or even take classes on how to make your own.
Those wanting to take home a masterpiece painting should visit Nancy Stamm's Galleria, where her distinct style has made its footprint around the world. Creativity is endless at the Trout Gallery at Dickinson College with one-of-a-kind exhibits on display. End your arts journey at CALC - Carlisle Arts & Learning Center, which showcases the finest art pieces from the community and offers classes to explore your own creativity.
Explore History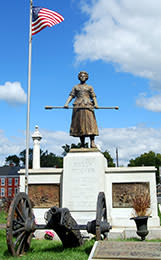 Carlisle features no shortage of historical landmarks to seek out or rediscover. Explore the history of the United States military and its roots to the Cumberland Valley. The Molly Pitcher Grave & Statue honors Mary Ludwig Hays, better known as Molly Pitcher, for her bravery in assisting her husband at the Battle at Monmouth during the Revolutionary War. During the Civil War, Central Pennsylvania became a battleground for Union and Confederate forces. The Confederates invaded Carlisle in June 1863 and the Old Courthouse still has the wounds to show for it. Both sides were treated for injuries at Dickinson College. Just outside of the downtown area, Carlisle's prestigious military history can also be seen at the Carlisle Barracks, which features more than 100 historic buildings, 22 of which are listed on the National Historic Register. The Cumberland County Historical Society, located in downtown Carlisle, is dedicated to preserve and reflect on the county's history. Highlights include a library, museum, education center, and museum shop.
Fun Nightlife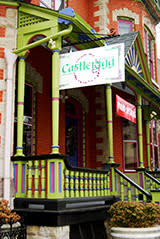 Quaint downtown Carlisle surely lights up with fun nightlife to enjoy.
Wine tasters will enjoy Castlerigg Wine Shop and their offerings of several locally-created wines. They also now serve various PA microbrews. Beer enthusiasts rejoice and celebrate with Market Cross Pub & Brewery and their selection of over 250 beers and ales, or Cafe Bruges for their Belgian ales and cuisine. All three locations are stops on the Cumberland Valley Beer Trail, so be sure to pick up your passport, collect stickers and win prizes.
Try something completely different and vintage with swing-dancing fun at The Green Door Dance Studio.
Stay & Make it a Weekend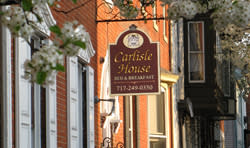 Carlisle has a collection of lodging accommodations ranging from hotels to bed & breakfasts. Stay right in the heart of downtown Carlisle at the Carlisle House Bed & Breakfast or the Comfort Suites Carlisle. View a full list of Cumberland Valley lodging options here.
While you're here, find unique shopping and dining experiences as your explore our other downtown locations, such as Mechanicsburg and Camp Hill.