Arts & Culture
Do you travel for the finer things in life? Enjoy Cumberland Valley's arts and culture scene with a blend of performing arts, local artisan galleries and one-of-a-kind heritage sites. From retro theatres and state-of-the-art performances to downtown galleries and tucked away shops, the Valley's cultural gems will keep you coming back.
The following trip ideas will leave you saying "Wow".
Cumberland Valley's collection of art galleries, wineries and places to pick up candies and chocolates allow for a decadent getaway with your special someone or a group of friends. More >>
Dinner & A Show in Cumberland Valley
If you're looking for a fun night out, look no further than the collection of performing arts centers and great dining establishments in Cumberland Valley. Our centers range from cozy community theatres to state-of-the-art centers that draw national acts. More >>
Spend a day or weekend visiting artisan craft shops to peruse the fine wares made by our local and regional artists. Not only is this a wonderfully relaxing way to spend your time, your purchases also serve as unique souvenirs to remind you of your Valley experience​. More >>
Are you a worldly traveler always seeking out the perfect keepsake or memento to remember your trips? If this sounds like you, the Valley welcomes you to browse through our antique shops, specialty boutiques and unique art galleries to find that special Made in Cumberland Valley item or experience. More >>
World's Largest Gourd Crafting Co.
Imagine walking around a field of crops near the end of harvest. You notice while everything else is rotting, one particular vegetable seems to hold shape throughout the winter months. This experience got one creative farmer thinking.  More >>
Find A Room
Call (877) 840-2923 to book by phone
Cumberland Valley Quick Links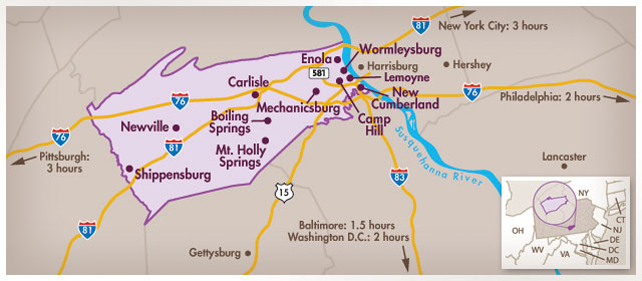 Explore the Valley using the map to the left or find activities and places to stay using the
Interactive Map