Culinary Pairings - Bikes & Brews
Cumberland Valley is a cyclist's dream with miles of trails along scenic roads, rail trails and mountain paths. The Valley and it's towns are very bike-friendly and our rolling hills and landscapes offer nice ride options to connect from one town to another. A great place to get started is by viewing all our routes with cue sheets and directions. 
This area is also developing as a brewery and brew pub destination, with new local hotspots popping up all the time. For a full brewery experience follow the Cumberland Valley Beer Trail. For a unique experience plan a getaway filled with enjoyable cycling and tastings of our local brews.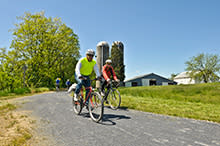 Cycling: Start your bikes and brews adventure in Shippensburg. This historic town has one of the trailheads to the 11-mile Cumberland Valley Rail Trail that runs from Newville to Shippensburg. This designated National Recreation Trail is great for wildlife and history enthusiasts as well. Interpretive signage details the agricultural and Civil War significance of the area, while the farmland allows for gazing at rolling hills and wildlife.
Brews: Plan an out-and-back ride to finish in Shippensburg and check out these local favorites for a cold one.
CJ's American Pub & Grill - This pub serves up classic favorites like burgers, sandwiches, salads and more. They also have a variety of beers on tap.
Arooga's Grille House & Sports Bar - This local chain keeps growing for a reason. Besides a menu of wings, pizzas, sandwiches and much more, Arooga's bar area also features a variety of beer options including happy hour specials and growlers to go.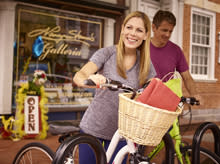 Cycling: Carlisle made the move to a bike-friendly town a few years ago by adding bike lanes and signage throughout the downtown. Enjoy a ride through this charming town by following the Carlisle Bike & Pedestrian Trail. You'll roll past restaurants, shops, galleries, historic sites and beautiful architecture.  
Brews: Carlisle is also known for great hangouts and brew pubs.
Molly Pitcher Brewing Co. - This spot opened to rave reviews in 2015 and offers a collection of crafted brews with historical names honoring Carlisle's Revolutionary War history. 
Cafe Bruges - Enjoy a taste of Belgium at this cafe that offers traditional dishes and a huge selection of Belgian beer. 
Market Cross Pub & Brewery - This Carlisle staple features a large beer list including an assortment of beers brewed on site. They also offer a menu of American and British classics. 
Cycling: We have three planned routes that allow for easy biking that start in the town of Mechanicsburg. Take the route from Mechanicsburg to Boiling Springs for a leisurely ride on scenic roads, the Mechanicsburg to McCormick Road Loop includes rural roads and a few steady climbs, and the Mechanicsburg North Loop will take you past views of mountains and creeks. 
Brews: After a day of biking the quiet roads leading to and from Mechanicsburg, settle in for a brew at one of the following.
Appalachain Brewing Company - Try one of the beers from this microbrewery, local favorites include the Trail Blaze Maple Brown Ale, the Hoppy Trails I.P.A. and the Chocolate Avenue Stout. They also have a creative menu of burgers, pizzas, steaks and more.
T.J. Rockwells - This local favorite is a little hidden but once you find it you'll keep going back. They have an extensive draft list and American menu. Join the "mug club" to have your special beer mug waiting for you every time you visit.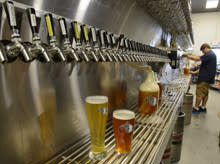 Cycling: Take a long ride from Carlisle through the West Shore Communities and into Harrisburg. Although this ride is along a busier road, it will lead you right past lots of great places to stop and check out including shops and restaurants. You can also enjoy a residential ride leading you through two parks and busier streets from Camp Hill to New Cumberland. 
Brews: Relax after these rides with a brew on the West Shore area of Cumberland Valley. 
Al's of Hampden - Home to great pizza and the Pizza Boy Brewing Company, Al's in Enola has over 100 beers on tap. You're sure to find a new favorite at this spot. 
Grain + Verse Bottlehouse - Located in New Cumberland, Grain + Verse is another beer and pizza joint. This one offers over 200 varieties of bottled beer to choose from. Conveniently, it's displayed by type to help you find your favorite.
Brewhouse Grille - Brewhouse in Camp Hill features a variety of bottled beer and beer on tap along with a menu full of American favorites. Enjoy a cold one at the outdoor bar and deck area.
Find A Room
Call (877) 840-2923 to book by phone
Cumberland Valley Quick Links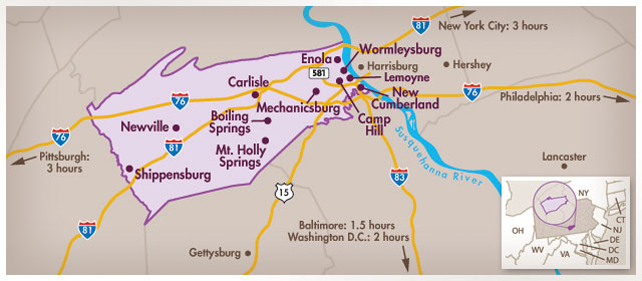 Explore the Valley using the map to the left or find activities and places to stay using the
Interactive Map