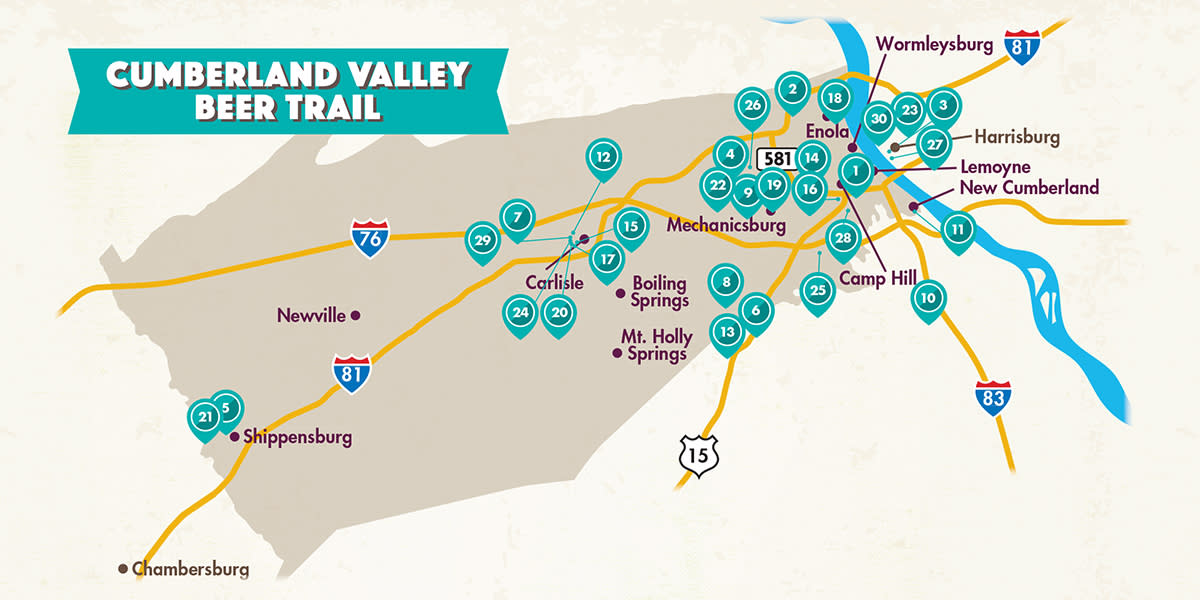 Cumberland Valley Beer Trail Locations
The Cumberland Valley Beer Trail consists of 30 locations throughout the Valley including nearby Chambersburg and Harrisburg. Keep checking back for new additions! View individual listings for event information.
Shippensburg to Carlisle
(numbers correspond with beer trail map above)
Twenty-three craft brews on tap, including a selection from local homebrewers, plus delicious shareable plates.
A restaurant with a specialty beer and crafts ode production onsite, enjoy ABC favorites and new seasonal brews.
Located in a quiet country setting only minutes from downtown Carlisle, the tasting room offers more than ten wines, all made from grapes grown, processed, and bottled on-site.
Artfully-crafted beer made from fresh, local ingredients.
Twelve craft beers brewed on-site, along with a restaurant specializing in authentic, made-from-scratch German fare and other items.
Cidery and wine bar with 24 taps of Pennsylvania's hard-to-find craft alcohol and soda selection.
Carlisle's first craft distillery uses local grains as much as possible and a distillation method that produces crisp, clean, and silky smooth spirits that are ideal for sipping.
A local staple for English fare and brews. Features over 250 varieties of beer and ales, with two or three on tap brewed by Market Cross.
Locally-owned brewery and taproom with more than 15 craft brews on tap.
Mechanicsburg
(numbers correspond with beer trail map above)
Casual 70-seat taproom specializing in sour and farmhouse ales. On draft, guests can order from a selection of beers brewed and blended on-site.
Restaurant with specialty beer and craft soda production onsite, enjoy ABC favorites and new seasonal brews.
This cozy tasting room offers a variety of award-winning wines – from sweet and dry reds and whites to fruit wines – produced in nearby Enola from locally-sourced grapes. 
European-style café with a chill neighborhood feel features wine by the glass plus an extensive selection of SpringGate's bottle collection as well as the customer-favorite wine slushies featured at their Estate location.
Creative and unusual approaches for dessert wines and dry bruts.
Find a simple menu of tasty food and a selection of delicious in-house and locally-brewed beer plus wine and spirits. 
This brewpub features 40 beers on tap, including six to ten house brews.
This casual microbrew pub features an extensive full-service food menu and craft beer menu tailored to everyone's taste – from IPAs to Kolsch-style ales to porters and more.
#25 SpringGate Arcona
SpringGate is expanding again with a new location at The Crossroads at Arcona, scheduled to open in 2020. In addition to their extensive wine menu, guests will enjoy spacious indoor and outdoor spaces, a simple local menu including signature items from THEA, and an inside stage to host live music.
West Shore & Harrisburg
(numbers correspond with beer trail map above)
#16 Highway Manor Brewing Co.
Highway Manor's beers are available throughout the state and soon fans will be able to enjoy their sour and wild ales at their new taproom in Camp Hill, scheduled to open in late summer/early fall 2020. They produce their unique barrel-aged sours from a propriety house yeast that dates back to the 1800s.
A variety of hand-crafted brews on tap, plus Big Hill cider, wine from Grandview Vineyard, craft cocktails, and a food menu designed to give customers a fresh dining experience.
Features 100+ options on tap, including a selection from the onsite Pizza Boy Brewery, also offers pizza and subs.
Try their house-brewed beers including Citra Wheat, Blueberry Wheat, Pale Ale, Whiskey Barrel Stout, Amber Ale, Big J Double IPA Spring Saison plus seasonal beers.
This restaurant with an indoor bar and large seasonal outdoor bar and deck area features a large changing list of craft brews on tap and in bottles.
​#28 The Watershed Pub
Brought to you by the creators of The Millworks in Harrisburg, The Watershed Pub is centrally located in Camp Hill's walkable downtown shopping district. The tasting room will sell good food, craft beer, and Pennsylvania wine and spirits. The building dates back to the 1830s and will retain many of its unique architectural features. Scheduled to open late summer/early fall 2020.
Clean, balanced ales and lagers brewed on-site with a fun snack menu.
The on-site brewery, rooftop biergarten, and local & sustainable restaurant – combined with 3 art galleries with 18 artist studios – provide a true bohemian atmosphere in the heart of midtown Harrisburg.
Restaurant with specialty beer production on-site, plus brewery tours.
Small batch brewing using fresh and unexpected ingredients, plus vegan menu.
Handcrafted rum, vodka, and whiskey.
Guests will enjoy award-winning craft spirits at this modern and comfortable tasting room with an on-site distillery.
Download
Beer Trail Passport
Download your copy of the Cumberland Valley Beer Trail Passport.
Download Passport