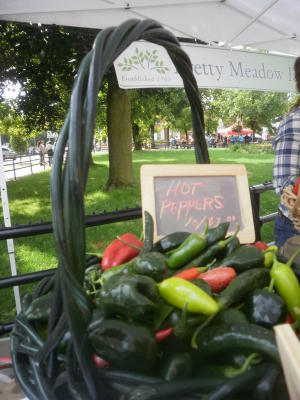 Farmers on the Square (FOTS) in downtown Carlisle is one of only a few producer-only farmers markets in the area and FOTS vendors are required to make what they sell and use locally sourced ingredients. In 2021, there are more than 25 vendors plus weekly guest vendors. As you wander from stand to stand, you will find seasonal produce, pasture-raised meat, free-range eggs, vegan and gluten-free baked goods, fresh herbs, Certified Organic vegetables, gourmet cheese, artisan bread, mushrooms, honey, and more. Other specialty products include gourmet popcorn, guacamole, hot sauces, ciders, hand-crafted tea and lemonade, and fresh-cut flowers.
The farmers market in downtown Carlisle has a history dating back to the pre-Revolutionary War era. According to the FOTS website, "a market house in one form or another occupied the southeast corner of Carlisle's Square (where the new courthouse now stands) for the better part of 260 years." The first structure was believed to have stood during the French and Indian War. The last permanent building to house the market was built in 1878 and was demolished in 1952. In 2009, after a 50-year absence, a farmers market returned to its traditional location in downtown Carlisle when Farmers on the Square was established.
In the face of COVID-19 challenges, Farmers on the Square (FOTS) in Carlisle proudly continues this tradition of offering fresh and local food to the community while also instituting safety measures to ensure the health and well-being of their customers, vendors, staff, and volunteers. Guidelines include social distancing, no sampling or eating at the market, spacing out vendors to allow for lines, providing hand sanitizer, and sanitizing surfaces regularly. Everyone is encouraged to wear a mask.
In order to make it as easy as possible to limit contact and maintain social distancing, customers can pre-order and pre-pay online from vendors. Pre-orders are open Thursday-Tuesday every week. Customers can shop by product or by vendor. For more information, click here. More than 10 vendors currently offer this option, allowing you to pre-purchase and pick up a variety of delicious items including bread, baked goods, donuts, chips, canned goods (pickles, jams, guacamole, salsa, and more), honey, cheese, apple cider, microgreens, beef jerky, mushrooms, and eggs. Curbside pickup can also be arranged or vendors will have the order waiting to pick up at their stands. 
Summer market hours (May through October) are every Wednesday from 3 pm to 7 pm.
For updated information on weekly vendors and any other changes, please check Farmers on the Square Facebook page.