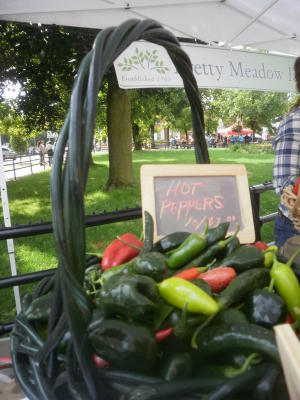 Farmers on the Square (FOTS) in downtown Carlisle is one of only a few producer-only farmers markets in the area and FOTS vendors are required to make what they sell and use locally sourced ingredients. In 2022, there are 30 year-round and seasonal vendors plus weekly guest vendors. As you wander from stand to stand, you will find seasonal produce, pasture-raised meat, free-range eggs, vegan and gluten-free baked goods, fresh herbs, Certified Organic vegetables, gourmet cheese, artisan bread, mushrooms, honey, and more. Other specialty products include gourmet popcorn, guacamole, hot sauces, ciders, hand-crafted tea and lemonade, and fresh-cut flowers.
The farmers market in downtown Carlisle has a history dating back to the pre-Revolutionary War era. According to the FOTS website, "a market house in one form or another occupied the southeast corner of Carlisle's Square (where the new courthouse now stands) for the better part of 260 years." The first structure was believed to have stood during the French and Indian War. The last permanent building to house the market was built in 1878 and was demolished in 1952. In 2009, after a 50-year absence, a farmers market returned to its traditional location in downtown Carlisle when Farmers on the Square was established.
Winter market hours (November through April ) are every Wednesday from 2 pm to 5 pm and summer market hours (May through October) are every Wednesday from 3 pm to 7 pm. Combine your trip to the farmers' market with a shopping excursion in downtown Carlisle. The market's central location on the square means that you can shop local and support downtown's unique shops and restaurants.
Metered parking is available on both Hanover and High Streets. There is also a metered lot beside the Post Office on West Louther Street. All metered parking is free after 4 pm. A parking garage is located on Pomfret Street, which is less than a five-minute walk from the market. 
​For updated information on weekly vendors and any other changes, please check Farmers on the Square Facebook page.