Cumberland Valley Groups 

There are so many ways for groups to experience the Valley! We will show you where to begin, what to include and where to stop.
We Can Help With:
Developing itineraries (view samples filled with group-friendly things to do, restaurants and more)
Arranging site visits and tours
Coordinating with tour stops, restaurants and lodging accommodations
Providing materials, welcome bags and greeting your group
Location is Key
Keep in mind the convenient location and ease of navigation in the Cumberland Valley. We are located in the middle of Hershey, Harrisburg, Lancaster, York and Gettysburg vacation region making it easy to tie us into your next stay.  Cumberland Valley is also easily accessible from Interstate 81, I-76, I-83 and US 11/15.
Stacey Cornman,

Visitor Services Manager
Phone:

(717) 240-7198
Email: stacey@visitcumberlandvalley.com
Stacey Cornman is a resident of Cumberland Valley and holds a Bachelor of Arts degree in English from Dickinson College. She has over 20 years of experience in printing and publishing. As the Visitor Services Manager, she manages visitor guide distribution and fulfillment and oversees the Cumberland Valley Visitors Center. Stacey joined CAEDC in January 2011.
Explore the tastes of Cumberland Valley on a progressive dining tour.
Experience the collection of Underground Railroad sites and stories in Cumberland Valley - we'll find you the perfect step on guide!
Visit the only hiking museum in the country or the world's largest gourd-crafting company.
Stay at the easily accessible and affordable rooms in Cumberland Valley as you travel out to the Gettysburg, Hershey and Lancaster outlets and Hollywood Casino and Penn National Raceway.
Find A Room
Call (877) 840-2923 to book by phone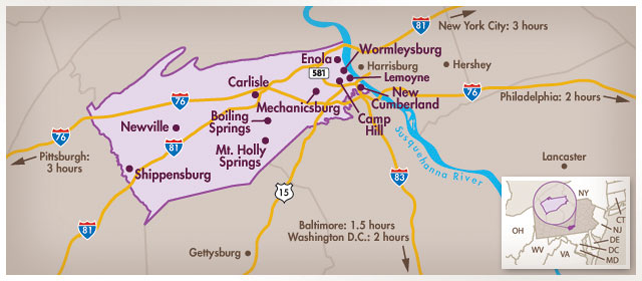 Explore the Valley using the map to the left or find activities and places to stay using the
Interactive Map