Top 5 Reasons to Meet In Cumberland Valley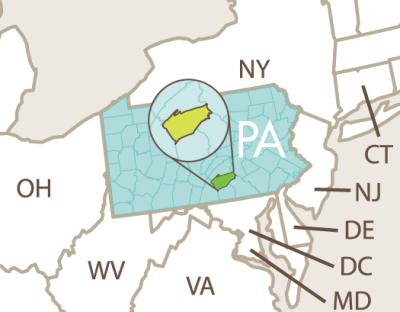 Meeting planners often find themselves at a crossroads while trying to meet the objectives of their next event -- hoping to find a great meeting venue at a great price with after-hour activities nearby for a variety of interests and age groups. You'll find all that and more when you meet in Cumberland Valley PA. Nestled in the quiet, natural beauty of south-central Pennsylvania, guests to Cumberland Valley will love experiencing our rich collection of vibrant downtowns, savoring our diverse cuisine and distinctive dining, and exploring plentiful outdoor recreation opportunities. Find your meeting success in Cumberland Valley. Contact Patrick Bourque, Destination Sales Manager, for further information.
1. Location, Location, Location
Our strategic location offers a combination of features that are hard to find in the Northeast Corridor. We are easily accessible from several major highways (I-81, I-83, the Pennsylvania Turnpike, and US 11/15); within a two- to three-hour drive of major cities such as Washington, D.C., Baltimore, Philadelphia, New York, and Pittsburgh; in close proximity to nationally-recognized attractions; and a  30- to 40-minute drive from Harrisburg International Airport and Amtrak. In addition, our highways and scenic roads are easy to navigate and there is ample parking in our downtowns.
2. Variety of Venues
Whether you are looking for a full-service resort, conference center, hotel ballroom, unique venue, retreat facility, exhibit hall, or more, Cumberland Vally has over 40 meeting venues where you can plan something out of the ordinary. 
3. Affordable Accommodations & Attractions
With more than 50 hotels, Cumberland Valley provides a central yet affordable location where you'll discover something to fit every style and budget. And with more than 20 free things to see and do, your attendees will find that Cumberland Valley is a fun and cost-effective destination for the whole family.
4. Authentic & Eclectic Experiences
When your attendees want to escape the hustle and bustle of non-stop meetings, there's no shortage of things to see and do in Cumberland Valley. Tap, tour and try a pint along our Cumberland Valley Beer Trail; step back in time at our unique museums and historical attractions; explore a serene and stunning landscape just a stone's throw from our downtowns; or venture into some of our specialty shops to find artwork and artisan crafts that reflect our rich heritage and lively local arts scene. Combined with fun year-round festivals and events, performing arts venues, and family-friendly activities, Cumberland  Valley is an adventure waiting to be discovered.
5. Complimentary Event Planning Services
Let the Cumberland Valley Visitors Bureau team help you with all stages of event planning. We provide free services that will make your event a success including RFP distribution, site inspections, welcome bags, vendor referrals, itinerary planning, and marketing and promotional materials for attendance building.