The Trout Gallery
is a hidden gem located in the Weiss Center for the Arts on the campus of Dickinson College. This fine arts museum houses the college's impressive collection of art, from ancient through contemporary, and features rotating exhibits. It is an excellent resource for the local Carlisle community as well as a great spot for visitors to view art that can't be seen anywhere else.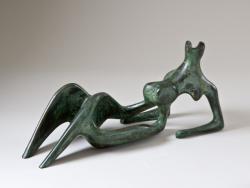 Since opening in 1983, Dickinson's collection has grown to over 6,000 works with considerable holdings in works-on-paper. Highlights of its ever-growing collection include prints by a number of major Modernist artists, 19th century American and European prints, European and Asian decorative arts, African ethnographic material, bronze statues, and antique coins and artifacts. The gallery's two exhibition spaces feature changing exhibits throughout the year that range from across the globe in almost every medium imaginable. The entrance level gallery houses selections from the museum's permanent collection while the lower-level gallery features temporary exhibits often on loan from other museums. 
The Trout Gallery hosts Twilight at the Trout on select Thursday evenings. Guests are invited to stop by for an evening visit where they can enjoy an informal art chat with student educators and experience a highlights tour of the current exhibition.
The Trout Gallery actively participates in numerous local community events and also hosts special events throughout the year for students and the public, including opening receptions, tours, and a variety of children's programming in the Mumper-Stuart Education Center located in the lower level. Admission to the Trout Gallery is free and all events are free unless otherwise noted.  View upcoming exhibits and programming at
www.troutgallery.org
.