There's a spot in Cumberland Valley that combines the best of dining, outdoor activities, and family fun. That small, but fun-filled area, is along the Susquehanna River in Wormleysburg. The list of offerings along the Susquehanna River includes outdoor dining, boating, mini-golf, picnics, baseball, and beautiful landscapes and you can do it all in one spot.
Dining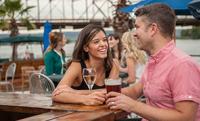 Before crossing the Market Street Bridge into Harrisburg, you will find two restaurants with indoor and outdoor seating, all overlooking the Susquehanna River. Dukes Riverside Bar and Grill and Dockside Willies each have their own charm and unique menu options. Dukes has long been known as one of the finest outdoor dining restaurants in Central Pennsylvania. The atmosphere is really enjoyable at any time of the year and the food variety should please everyone in your party. Dockside Willies also offers a great outdoor atmosphere for casual family-friendly dining, especially in the summer months. Dockside's food selection covers a wide array of options and specializes in their brick-oven pizza. Another specialty is the happy hour offered seven days a week at its unique bar. 
Once you've enjoyed dining al fresco, spend the remainder of the evening exploring the local breweries along the Cumberland Valley Beer Trail.
Pride of the Susquehanna
While you overlook the sparkling water you'll probably catch a glimps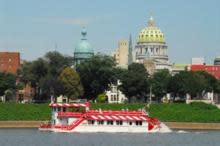 e of the Pride of the Susquehanna. The large red and white paddle-wheel riverboat is available for public and private cruises. No reservations are required and 45-minutes sightseeing tours begin at noon, 1:30 pm, and 3:00 pm on weekdays and noon, 1:00 pm, 2:00 pm, and 3:00 pm on weekends.
The Pride of the Susquehanna also offers special themed nights throughout the summer, including murder mysteries, live music cruises, family-themed events, Maryland Blue Crab Cruises, and Brews Cruises. Check the Events Calendar for upcoming themed nights. The Pride can also be rented for private parties, weddings, meetings, and anniversaries.
City Island
Another destination with fun activities and attractions like an arcade, batting cages, playground, and mini-golf, is City Island. Located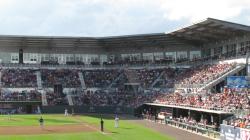 on an island in the Susquehanna River between Harrisburg and Wormleysburg, City Island proves all of the summertime fun you can handle. City Island hosts the Double-A affiliate of the Washington Nationals, the Harrisburg Senators baseball team. The Senators offer great family activities and promotions, including The Cowboy Monkey Rodeo and the Dallas Cowboys Cheerleaders.
For those looking to swing the bat themselves, a batting cage is available with both baseball and softball pitching speeds. Right beside the batting cage is an arcade featuring many classic games and prizes for your winnings.
City Island provides a great scenic backdrop of the Cumberland Valley on one side and the skyline of Harrisburg on the other. Taking a walk around City Island is a great experience, but visitors can also take a ride on the steam train. Waterfront mini-golf is another family-fun City Island experience. This 18-hole course right beside the Susquehanna River adds an exciting and picturesque element to the game. There's also a great selection of food vendors, including a summertime must...ice cream!
Outdoor Activities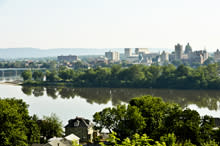 The Susquehanna River boasts many outdoor opportunities including boating, jet-skiing, and walking trails. Enjoy a day on the water by following the Susquehanna River Trail. If you'd don't have your own equipment, you can rent a canoe, kayak, or SUP at Susquehanna Outfitters, located in Wormleysburg. Guided boating trips can also be scheduled ahead of time. 
The river is also a great place to spot birds and other wildlife. Follow the Susquehanna River Birding and Wildlife Trail to find hotspots to view a variety of wildlife and native birds. The river also offers a great backdrop for a leisurely walk. Park at City Island and stroll across the walking bridge and down Front Street in Harrisburg for beautiful views.
Events
A number of popular events are held throughout the year at City Island and along Riverfront Park in downtown Harrisburg including the Kipona Festival over Labor Day weekend. 
Find these events and others on our Events Calendar.