For many, Easter is a time of mischievous bunnies, pastel candies, pretty dresses, and uplifting religious services. Enjoy Easter in the Cumberland Valley with sweet treats to fill your Easter baskets, holiday eats, and seasonal events.
Fill Your Basket
Snazzy Giraffe  - Fabulous and trendy clothing means you will find the perfect Easter outfit for your little one at this specialty children's boutique. Their selection of gifts, toys, and accessories are ideal additions to Easter baskets.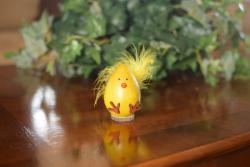 Meadowbrooke Gourds - Visit the world's largest gourd crafting facility and pick up spring and Easter decor.
Georgie Lou's Retro Candy - This unique shop features retro candies and pop culture gifts as well as beautiful window displays! The kids will love blue and purple bunnies while adults will crave Mallow Cups and more throwback candies. Their storefront is currently closed but they remain open for online orders with local delivery, store pick up, and shipment on Tuesdays, Thursdays, and Saturdays between 2:00-4:00 PM. 

Lollipop Shop - Visit downtown Shippensburg and browse the unique selection of Easter candies including clear toy candy at this small store filled with yummy treats.

Macris Chocolates - More than 100 varieties of mouth-watering chocolates are sold in this shop so you'll be sure to find a flavor for everyone.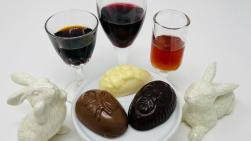 Brittle Bark - Children and adults alike will be happy to receive handmade cream eggs, chocolate bunnies, and other delicious treats at this artisan shop in downtown Mechanicsburg. Or visit their sister store, Cocoa Creek Chocolates in Camp Hill, for artisan micro-batch truffles and bars, including Adult Truffle Easter Eggs:
Blackberry Malbec (Dark Organic 60% Italian chocolate)
Coffee Kahlua (Milk Belgian chocolate)
Raspberry Chambord (White Belgian chocolate)
Click here to read more about locations to purchase the best Cumberland Valley chocolate.
Holiday Eats
Sign up for these cooking classes at The Kitchen Shoppe and impress your family with your cooking skills.
Easter Pierogi @ The Kitchen Shoppe (March 23) - This hands-on class has a made-from-scratch pierogi dough recipe, which will be filled with a traditional filling.
Italian Easter Dinner @ The Kitchen Shoppe (March 26) - This cooking class will demonstrate a traditional Italian Easter meal.
Easter Garden Kids' Class @ The Kitchen Shoppe (March 28) - Create an edible garden fit for a bunny -- from grass to flowers.
Events
Eggsplosion Craft & Vendor Show @ The Carlisle Expo Center (April 3) - Shop for spring decor and Easter goodies from nearly 100 vendors.
Easter Sunrise Service @ Kings Gap (April 4) - Bring your own chair, coffee, and donuts on April 4 at 7:00 AM to the mansion lawn at Kings Gap Environmental Education Center.
Egg Hunts
Note: Many of the hunts require pre-registration. Please see the details in the listing for each event.
Bunny Eggstravaganza @ Downtown Camp Hill (March 20) - Fun Easter activities for the kids including crafts and egg decorating.
Indoor Easter Egg Hunts @ AACA Museum (March 27 & April 3) - Use the clues to find hidden Easter Egg baskets throughout the museum.
Adult Egg Hunt @ J & P Winery (March 27) - Tickets required and include wine tasting, prizes, music, and vendors. This event is for ages 21+.
Community Easter Egg Hunt @ The Cracked Pot Coffee Shop (March 27) - For kids grades 5 and under. Bring your own bag or basket. 
East Pennsboro Easter Egg Hunt @ Adams-Ricci Community Park (March 27) - For ages 1 through 8. There will be prize eggs and a visit from the Easter Bunny.
Suds-N-Kisses Doggie Easter Egg Hunt @ Shaffer Park (March 27) - Bring your doggie and enjoy an Easter Egg Hunt just for your pooch. Why should the kids have all the fun?
SCRAMBLED: Easter Egg Hunt @ Radisson Hotel (March 28) - An Easter Egg hunt with legitimately cool prizes to benefit wishesfordrew.org.
Easter Egg Hunt @ Bethel Assembly of God (March 28) -  Children 12 and under are invited to participate and will have the opportunity for lots of candy and fun.
Hippity Hoppity Easter Egg Hunt @ Greater Grace Bible Fellowship (April 3) - A day of egg hunts, crafts, and food.
Community Easter Egg Hunt @ Carlisle UMC (April 3) - Family Egg Hunt, create crafts, play games, capture memories in our photo area, take part in the interactive Easter Story, and get ready for some awesome raffle prizes.
Easter Egg Hunt @ McCurdy's Tree Farm (April 3) - Lots of eggs, laughs, & fun plus pictures with the Easter Bunny.
Easter Egg Hunt @ First Assembly of God (April 3) - Age-appropriate areas with fun for the whole family.
Easter Egg Hunt @ Ashcombe Farm & Greenhouses (April 3) - Children 1 through 8 are invited to enjoy this fun-filled hunt, FREE of charge! 
Easter "Keg" Hunt @ Burd's Nest Brewing Co. (April 3) - Do a pub crawl combined with a scavenger hunt around Carlisle to win 10 4-packs! Teams of up to six people will follow the clues in a timed event. 
8th Downtown Carlisle Bunny Hop (April 10) - This day of spring fun will center around a downtown-wide activity for children 12 and under, who will frolic from business to business collecting treats.
Easter Egg Hunt @ Meadowbrooke Gourds (April 17) - This event takes place a few weeks after Easter and is in conjunction with their new Spring Festival.
New Easter events are still being added. Check the Event Calendar for a full listing.