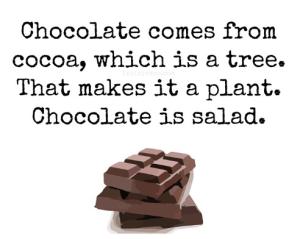 In a world full of divided and differing opinions, it's hard to come by something as universally accepted as chocolate, and Cumberland Valley has some of the best around. 
Macris Chocolates
Macris Chocolates has been in Lemoyne since 2013, but the family tradition of making chocolate goes back to 1919 when the owner's grandfather created Philadelphia Candies. The chocolate recipe, which uses only the highest quality ingredients, has been passed down through the generations and is still used to make the store's candy from scratch at their factory north of Pittsburgh. 
As equally alluring as the scent and flavor of chocolate is the layout and decor of the store. Elegantly designed for various holidays, the stylish interior welcomes customers who can create their favorite assortment of candies from a bulk showcase offering more than 100 varieties of chocolates, including nougats, jellies, toffees, pretzels, and more. Boxed chocolates, custom gift baskets, and specialty items such as chocolate-covered strawberries are also available.
If that's not enough, Macris serves Penn State Berkey Creamery Ice Cream with a constantly changing selection of delicious flavors, including Death by Chocolate and Chocolate Marble. 
Mummert Chocolates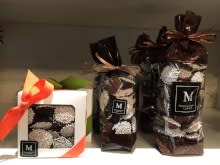 Located on fun and funky Pomfret Street in historic downtown Carlisle, Mummert Chocolates specializes in both handmade milk and dark Swiss chocolates. The 25-year-old family business moved into its retail space in 2016. Before that, the owner made her confections in a commercial kitchen at home. Now made on-site at the store from family recipes, the shop features a display case with 36 varieties of assorted chocolates that will tempt the taste buds and satisfy any sweet tooth cravings. Better yet, these delicious treats can be purchased by the piece giving you a chance to try an assortment of the 36 varieties, including toasted coconut, peppermint patties, cordial cherries, buttercreams, raisin clusters, almond butter crunch, and assorted hand-roasted nuts. If you need some help deciding, the milk and dark chocolate salted caramels are popular. If you can't decide, purchase a pre-boxed set of chocolates packaged for the season or holiday and always ideal for gift-giving.
In addition, the store also sells pre-packaged nonpareils (the dark chocolate variety is another customer favorite), chocolate-covered pretzels, chocolate-covered graham crackers, and other molded chocolates appropriate for the season or holiday (chocolate bunny lollipops, anyone?). For companies looking for an extra-special treat, Mummert can work with you to create a custom mold of your logo for corporate gift-giving to employees or customers.
Exquisite Chocolates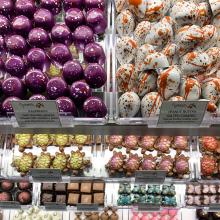 Located around the corner from Mummert Chocolates, Exquisite Chocolates offers gourmet confections that are a work of art. Visitors to this boutique chocolate shop can experience the mouthwatering flavors of some of the finest chocolates in the world. Here you will find creative chocolates and pastries from Ghyslain Chocolatier, Inc; handmade small-batch chocolates from John Kelly Chocolates; decadent chocolates with fresh flavors of the Pacific Northwest and beyond from Moonstruck Chocolate Co.; and the quintessential Belgian chocolate from Neuhaus. The friendly staff is happy to share more information with you about these artisanal chocolates and help you choose the best selection to enjoy on-site, save for later, or give as a gift.
More...
Are there even more options for chocolate in the Cumberland Valley? You bet. We suggest stops at Georgie Lou's Retro Candy, where you can find some of your childhood favorites, and the Lindt Chocolate Factory Outlet. Or you might want to try the decadent homemade mochas and hot chocolate at Helena's Chocolate Cafe & Creperie. These rich and sweet drinks feature authentic 64% dark Belgian chocolate.