Cumberland Valley's art galleries, wineries, and shops selling artisan candy and chocolates make for a decadent Weekend Easy getaway with your special someone or a group of friends. Enjoy browsing local art, sipping on PA wines, and sampling all the goodies that can only be found here.
Art Galleries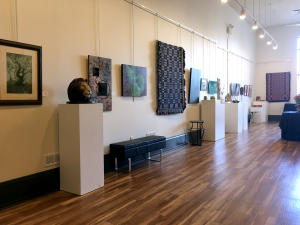 The Valley's art galleries welcome you to experience unique and memorable artwork in a variety of mediums. Below are a few highlights and if you're looking for an easy way to experience them all follow the Cumberland Valley Artisan Adventure Trail. 
Wineries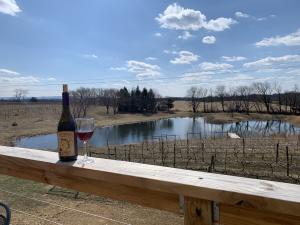 After browsing our art galleries and shops, relax with a wine tasting at our wine shops and nearby wineries. Find a few suggestions below. You can also follow the Covered Bridge & Wine Loop for wine tastings mixed with the gorgeous mountain scenery of southcentral Pennsylvania.
Spend an afternoon or evening relaxing at the cozy Castlerigg Wine Shop in Carlisle. Enjoy a tasting, glass, or bottle of wine from local PA wineries. View Castlerigg's recommended pairings below. 
Just a short 10-minute drive from downtown Carlisle, you'll find The Winery at The Long Shot Farm. Here you can relax on the deck with gorgeous views of the vineyard and mountains while savoring wine at the first winery in Cumberland Valley to grow, process, and bottle their own grapes.
The original SpringGate Vineyard and Brewery has branched out with a location in Mechanicsburg at SpringGate Arcona. Guests can enjoy their favorite SpringGate wines, craft beer, and other beverages. 
Chocolate & Other Treats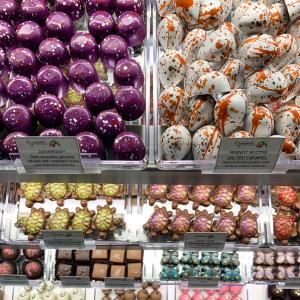 While you're out and about sampling wine and browsing art, stop for a sweet treat at one of our local candy shops or bakeries.
Macris Chocolates in Lemoyne features over 100 varieties of chocolates, and you can pick and choose which ones you'd like to make the perfect box. 
For something a little more unconventional, head to Cocoa Creek Chocolates in Camp Hill. This boutique store makes a variety of artisan chocolates, including plant-based truffles.
Within a few short blocks, guests can savor the delectable flavors of historic downtown Carlisle with visits to Georgie Lou's Retro Candy, Mummert Chocolates, and Exquisite Chocolates. Each shop will surely please your taste buds with its delicious and unique offerings.
Carlisle is also home to a Lindt Chocolate Factory Outlet store. Stop by and pick out your favorite truffle flavors from the large bins. 
If you're looking for more than chocolate you can also find sweet treats like cupcakes, pastries, and cake pops at local favorites like the Pennsylvania Bakery in Camp Hill.
Recommended Pairings from a Local Expert
We stopped by Castlerigg Wine Shop and asked owner Alan Tumblin for recommendations on which wines he would pair with your favorite sweet treats. He shared that any dry red pairs nicely with dark chocolate. He suggested that the Whippoorwill White from Seven Mountains Wine Cellars goes great with salted caramel flavors and recommended any of the berry fruit wines, like the Black Raspberry from Seven Mountains Wine Cellars, to go with cheesecake.