The Kitchen Shoppe
,  but I attended another class, and it's worth writing about - again.
If you missed the
first blog about The Kitchen Shoppe's cooking classes
, here is what you need to know: The Kitchen Shoppe is a super kitchen store with almost any kitchen gadget, accessory or tool you ever imagined.  You can also purchase gourmet food and teas, as well as talk with the staff for advice and tips. 
In addition to the products, The Kitchen Shoppe also offers cooking classes in two different formats - demonstration and hands-on.  Both are taught in a cozy classroom setting with lots of mirrors so you can easily watch the cook from any seat in the room.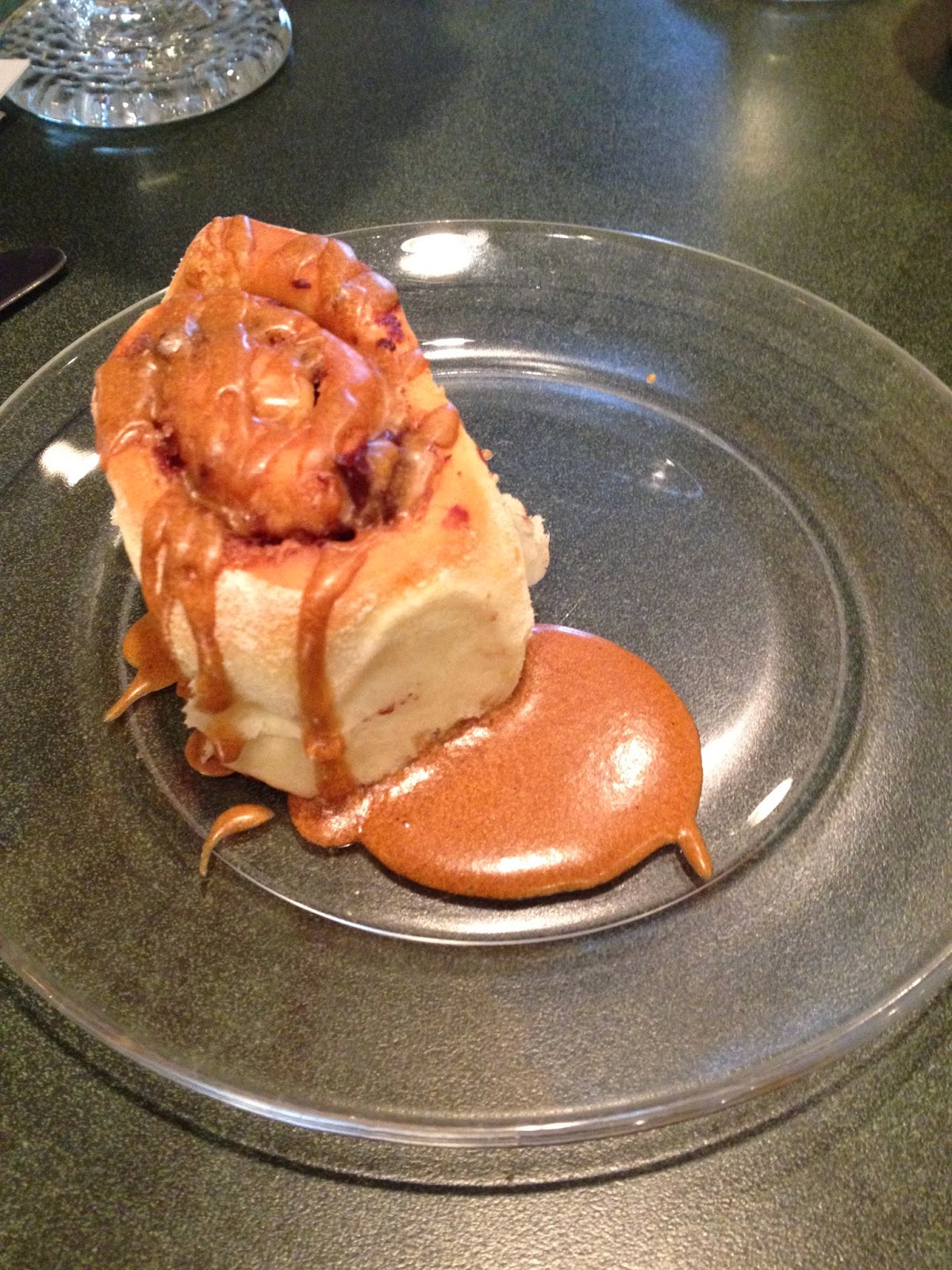 I took a demonstration class.  It started with a friendly welcome from the staff who directed us to the classroom.  We were offered fresh, hot tea or coffee from their gourmet selection, or chilled water on the tables.  This particular class covered three different items: Bittersweet Chocolate Cinnamon Rolls with Coffee Cream Glaze; Roasted Tomato, Pesto & Goat Cheese Frittata; and Roasted Pear Napoleon with Ginger Pastry Cream.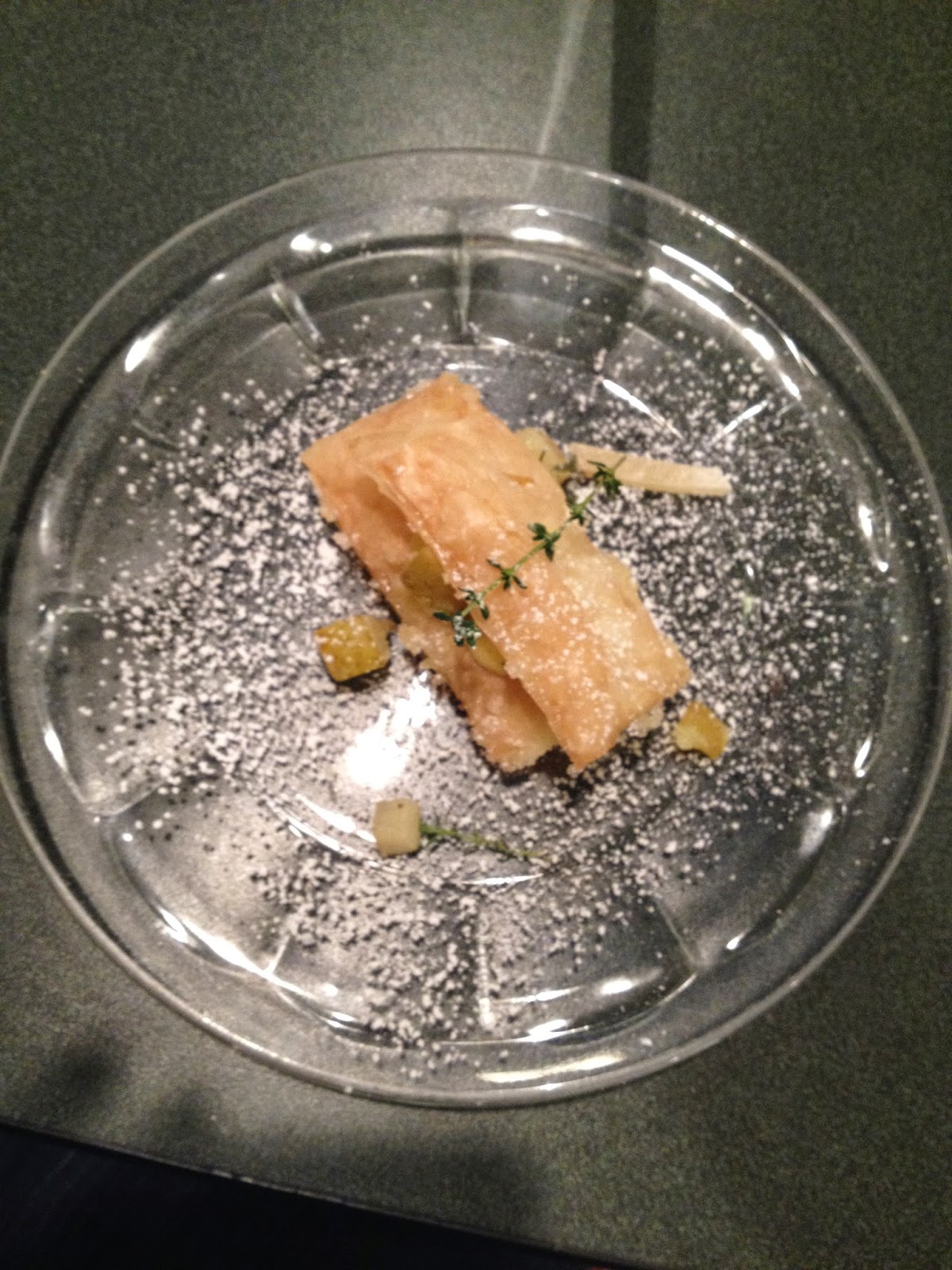 The class started at 9am, so the first item on the agenda was to serve each guest the warm Bittersweet Chocolate Cinnamon Roll with Coffee Cream Glaze.  As we all looked at the delectable treat in front of us, our attention was directed to the stapled packet on our seats.  A copy of each recipe was provided so that we could take notes as the demonstration progressed.  A few helpful pointers were given, including the difference between vanilla bean paste and vanilla extract, and we moved on to the demonstration of the Roasted Tomato, Pesto & Goat Cheese Frittata.
We watched as the chef made the fritatta from start to finish.  While she was cooking, our fritattas arrived at our seats, garnished with tomatoes from her personal garden.  Each step was clearly covered in a professional, easy manner, down to how to turn regular tomatoes into roasted tomatoes.  I learned that I've been chopping my onions incorrectly for years! 
Next, we briefly covered the Pear Napoleon with Ginger Pastry Cream.  Most of the prep work had already been completed, but we received instructions on how to assemble the  dessert since it was made with phyllo dough.  There was lots of time for questions in between bites of the pastry.
One of my favorite parts of the cooking demonstrations is the products used by the cooks.  Each item that was unusual, such as a silpat or diamond-plated frying pan, was explained to the group in terms of use and benefits, handed out so we could examine the item, and available for purchase in the store.
Another great factor of the cooking school is that they offer a huge variety of classes including kids, couples, fancy and even grilling!  If you're visiting Cumberland Valley and you like to cook, a class at the Kitchen Shoppe is a great way to spend a morning.