Hop in the car and top off your Cumberland Valley adventure with a stop (or two) along the Cumberland Valley Ice Cream Trail. Delight in the explosion of innovative flavors or find satisfaction in savoring old favorites. With 14 locations spread across Cumberland Valley, you'll always find a nearby spot to satisfy your cravings. 
The Cumberland Valley Ice Cream Trail passport is closed for the season, but you can still indulge in every conceivable ice cream concoction as you sprinkle in some stops on your next visit. Any deals or discounts presented during the 2021 Cumberland Valley Ice Cream Trail passport expired 9/6/21 and are no longer valid. Be sure to check back in May 2022 for the new flavor of the Cumberland Valley Ice Cream Trail!
Hours of operation are seasonal, subject to change, and may be dependent on weather. Please check each location's website or Facebook page for the most up-to-date information.
Shippensburg to Carlisle
If you are in the Shippensburg area, stop by Goose Bros Ice Cream for premium hand-made ice cream in a variety of yummy flavors. Indoor seating, outdoor seating, and walk-up window. Address: 81 Walnut Bottom Rd., Shippensburg. 
Twirly Top Drive-In in Gardners is a staple for those camping or enjoying a day outdoors at Pine Grove Furnace State Park. Cool off with soft-serve, shakes, banana splits, and floats. Order at the window and enjoy at the picnic tables or in your car. Address: 1 Pine Grove Rd., Gardners.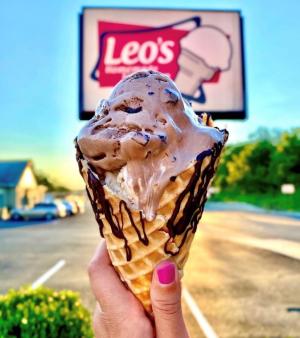 Leo's Homemade Ice Cream is located in Carlisle and serves up local favorites like Salted Caramel and Butter Pecan, along with some unique flavors like Jalapeno Cornbread and Peanut Butter & Jelly. Indoor seating, outdoor seating (including a covered pavilion area), and a pickup window. Address: 816 W. High St., Carlisle. 
Massey's Frozen Custard in Carlisle is famous throughout the area for its delicious frozen custard, which comes in a variety of flavors as soft-serve or hand-dipped. Take-out only. Outdoor seating is available or savor your treat while strolling through the Dickinson College campus. Address: 600 W. High St., Carlisle. 
Less than 5 minutes from downtown Carlisle, Clair's Orchard is open seasonally from April through November and sells homemade hand-dipped ice cream from Misty Meadow Farm Creamery (located in Maryland). Milkshakes, waffle cones, and fruit slushies are also available. Order inside the store or from their takeout window. Enjoy seating on the outside patio. Address: 1452 Holly Pike, Carlisle. 
Mechanicsburg to New Cumberland
Rakestraw's Ice Cream Company Store, located in the downtown area of Mechanicsburg, has been serving ice cream since 1903 and features 32 premium flavors plus limited edition slow-churned flavors. Address: 313 S. Market St., Mechanicsburg. 
Paulus Farm Market is just a short drive down the road from Rakestraw's. The Cow-Lick Ice Cream Truck features soft-serve treats, sundaes, and floats, Outdoor seating is available at the farm or purchase for takeout. Address: 1216 S. Your St., Mechanicsburg.
Nearby Oak Grove Farms offers hand-dipped and smooth and creamy soft-serve ice cream. Outdoor seating. In addition to being open during regular market hours, the ice cream counter is now open from 6:30 pm to 9:30 pm on Fridays and Saturdays during the summer. Address: 846 Fisher Rd., Mechanicsburg.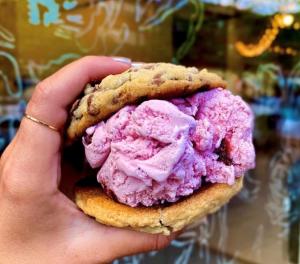 Shirley Rae's Ice Cream offers 16 premium hand-dipped flavors plus milkshakes, malts, floats, and specialty sundaes. Be sure to try the homemade waffle cones. Indoor and outdoor seating. Address: 1347 Saxton Way, Mechanicsburg. 
Cornerstone Coffeehouse in Camp Hill is known for its specialty drinks and baked goods, but don't overlook its ice cream. Indoor and outdoor seating available. Address: 2133 Market St., Camp Hill
On the West Shore, Kristy's Whistle Stop in Enola serves up ice cream and fun food, including burgers and hot dogs, in a 50's atmosphere. Indoor and outdoor seating. Address: 600 S. Enola Rd., Enola.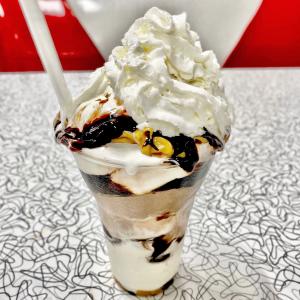 Guests will love the retro 50's vibe at Hanna's Ice Cream Shoppe, in the heart of downtown New Cumberland, while enjoying soft-serve and hand-dipped flavors. Indoor dining or takeout. Address: 321 Bridge St., New Cumberland.
Happy Conez is known for its specialty rolled ice cream plus hard and soft-serve made fresh daily. Address: 1 Lewisberry Rd., New Cumberland.
No matter where you choose to visit, these yummy treats are sure to put a smile on your face and keep you cool during the hot summer months.
Images: Lauren Lindoerfer. Follow Lauren on Instagram: @food_flatterer