When it's hot out, we definitely all scream for ice cream! Cumberland Valley locals are pretty passionate about their favorite place to grab this cooling treat. We are putting biases aside and giving you the options in the Valley so you can do your very own taste test this summer.
Download a copy of our Ice Cream Trail locations so you can check them off the list as you go.
Shippensburg to Carlisle
If you are in the Shippensburg area, stop by Goose Bros Ice Cream for premium hand-made ice cream in a variety of yummy flavors. Address: 81 Walnut Bottom Rd., Shippensburg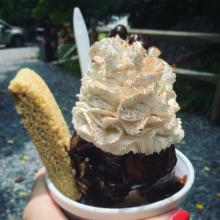 Also located in Shippensburg, Cabin on King, serves up creative sundaes (most come with a delicious cookie) and other sweet treats. Address: 227 W. King Street, Shippensburg
Twirly Top Drive-In in Gardners is a staple for those camping or enjoying a day outdoors at Pine Grove Furnace State Park. Cool off with soft-serve, shakes, banana splits and floats. Address: 1 Pine Grove Rd., Gardners 
Leo's Homemade Ice Cream is located in Carlisle and serves up local favorites like Salted Caramel and Butter Pecan, along with some unique flavors like Jalapeno Cornbread and Peanut Butter & Jelly. Address: 816 W. High St., Carlisle
Massey's Frozen Custard in Carlisle is famous throughout the area for their delicious frozen custard, which comes in a variety of flavors as soft-serve or hand-dipped. Address: 600 W. High St., Carlisle
A short distance from Carlisle, The Sugar Shack in Boiling Springs offers an assortment of ice cream flavors, plus pastries, cakes, pies & coffee. Pick your favorite and enjoy it while sitting on a bench by Children's Lake.
Mechanicsburg to New Cumberland
When you enter Eckels Ice Cream Fountain, you feel yourself being transported to a different time. The historic building offers the charm of an old-fashioned ice cream parlor.  Visitors can choose between ice cream sodas, sundaes, and milkshakes (plus a limited lunch menu). Address: 36 E. Main St., Mechanicsburg
Mechanicsburg offers two other local favorites, Maggie's Italian Ice & Frozen Custard with hand-dipped and Italian ice options and Rakestraw's Ice Cream Company Store. Rakestraw's, located in the downtown area of Mechanicsburg, has been serving ice cream since 1903 and features 32 premium flavors plus limited edition slow-churned flavors. Addresses: Maggie's, 147 Gettysburg Pike, Mechanicsburg; Rakestraw's, 313 S. Market St., Mechanicsburg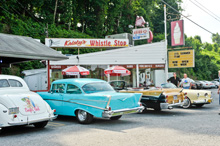 Frozen yogurt has also made a splash in Cumberland Valley. Stop by the locally-owned Bamboo Frozen Yogurt Café in Mechanicsburg for a variety of flavors and a buffet of topping choices. Address: 5001 Carlisle Pike, Mechanicsburg
On the West Shore, Kristy's Whistle Stop in Enola serves up ice cream and fun food, including burgers and hot dogs, in a 50's atmosphere. Address: 600 S. Enola Rd., Enola
Guests will love the retro 50's vibe at Hanna's Ice Cream Shoppe, in the heart of downtown New Cumberland, while enjoying soft-serve and hand-dipped flavors. Address: 321 Bridge St., New Cumberland