You may have been doing more cooking and baking while staying at home, but one thing that you probably haven't been able to make is ice cream. Instead, leave the hard work to the experts, hop into the car, and stop by these locations along the Cumberland Valley Ice Cream Trail. These yummy treats are sure to put a smile on your face during these difficult times.
Download our Ice Cream Trail passport so you can check them off the list as you go. Hours of operation are subject to change and may be dependent on weather. Please check each location's website or Facebook page for the most up-to-date information.
Shippensburg to Carlisle
If you are in the Shippensburg area, stop by Goose Bros Ice Cream for premium hand-made ice cream in a variety of yummy flavors. Address: 81 Walnut Bottom Rd., Shippensburg. Fall hours are from 4 pm to 9 pm on weekdays and from 2 pm to 9 pm on weekends. Go to their website to download the app, please your order and pay online, and then pick up at their new walk-up window.
Also located in Shippensburg, Cabin on King serves up creative sundaes (most come with a delicious cookie) and other sweet treats. Address: 227 W. King Street, Shippensburg. Order takeout only at their walk-up window. Hours are 4 pm to 9 pm daily (open until 10 pm on Fridays)
Head to the walk-up window at Jaymee Lee's Diner in Newville and order from over 30 flavors of soft-serve ice cream, plus banana splits, sundaes, and milkshakes. Address: 8 South High St., Newville. Current hours for the ice cream window are Tuesday through Sunday from 12 pm to 8 pm.
Twirly Top Drive-In in Gardners is a staple for those camping or enjoying a day outdoors at Pine Grove Furnace State Park. Cool off with soft-serve, shakes, banana splits, and floats. Address: 1 Pine Grove Rd., Gardners. Call 717-486-3424 to order ahead or order at the takeout window. Hours are Monday through Thursday from 11 am to 9:30 pm and Friday and Saturday from 11 am to 10 pm.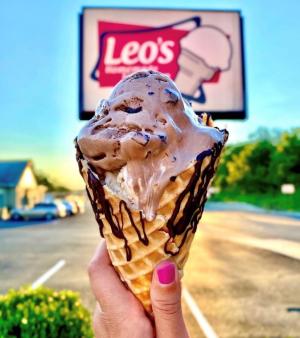 Leo's Homemade Ice Cream is located in Carlisle and serves up local favorites like Salted Caramel and Butter Pecan, along with some unique flavors like Jalapeno Cornbread and Peanut Butter & Jelly. Address: 816 W. High St., Carlisle. Hours at the pickup window are daily from 12 pm to 8 pm. 
Massey's Frozen Custard in Carlisle is famous throughout the area for its delicious frozen custard, which comes in a variety of flavors as soft-serve or hand-dipped. Address: 600 W. High St., Carlisle. Takeout only from 11 am to 8 pm Monday through Thursday, 11 am to 9 pm Friday and Saturday, and 12 pm to 8 pm on Sunday. 
Less than 5 minutes from downtown Carlisle, Clair's Orchard is open seasonally from April through November and sells homemade hand-dipped ice cream from Misty Meadow Farm Creamery (located in Maryland). Milkshakes, waffle cones, and fruit slushies are also available. Order inside the store or from their takeout window. Enjoy seating on the outside patio. Address: 1452 Holly Pike, Carlisle. Hours are Tuesday through Saturday from 9 am to 5 pm and Sunday from 11 am to 5 pm.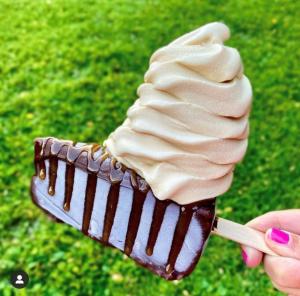 A short distance from Carlisle, The Sugar Shack in Boiling Springs offers an assortment of ice cream flavors, plus pastries, cakes, pies & coffee. Pick your favorite and enjoy it while sitting on a bench by Children's Lake. Order takeout at their walk-up window, order online, or call 717-919-8543 to order ahead for pickup. Try their take-home ice cream party kits. Hours are Monday through Saturday from 1 pm to 9 pm and Sunday from 1 pm to 8 pm. Closing for the 2020 season on October 24.
Mechanicsburg to New Cumberland
When you enter Eckels Ice Cream Fountain, you feel yourself being transported to a different time. The historic building offers the charm of an old-fashioned ice cream parlor.  Visitors can choose between ice cream sodas, sundaes, and milkshakes (plus a limited lunch menu). Address: 36 E. Main St., Mechanicsburg. NOTE: As of July 1, 2020, Eckel's is temporarily closed. 
Rakestraw's Ice Cream Company Store, located in the downtown area of Mechanicsburg, has been serving ice cream since 1903 and features 32 premium flavors plus limited edition slow-churned flavors. Address: 313 S. Market St., Mechanicsburg. Hours are 1 pm to 9 pm daily. Customers are asked to use the walk-up window only and practice social distancing while waiting in line.
Frozen yogurt has also made a splash in Cumberland Valley. Stop by the locally-owned Bamboo Frozen Yogurt Café in Mechanicsburg for a variety of flavors and a buffet of topping choices. Address: 5001 Carlisle Pike, Mechanicsburg. Open for indoor dining, outdoor dining, or takeout from 1 pm to 9 pm daily.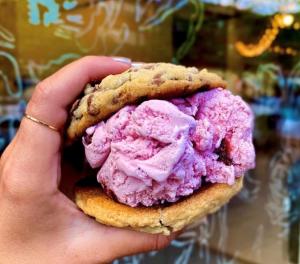 Shirley Rae's Ice Cream offers 16 premium hand-dipped flavors plus milkshakes, malts, floats, and specialty sundaes. Be sure to try the homemade waffle cones. Lunch and dinner menu also available. Address: 1347 Saxton Way, Mechanicsburg. Open daily from 11 am to 9 pm for takeout or limited indoor seating.
On the West Shore, Kristy's Whistle Stop in Enola serves up ice cream and fun food, including burgers and hot dogs, in a 50's atmosphere. Address: 600 S. Enola Rd., Enola. Fall hours starting August 24 are Thursday through Sunday from noon to 9 pm. Kristy's closed for the season on 9/21/20. They will re-open in the spring.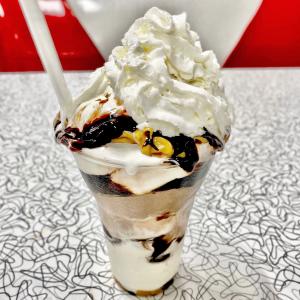 Guests will love the retro 50's vibe at Hanna's Ice Cream Shoppe, in the heart of downtown New Cumberland, while enjoying soft-serve and hand-dipped flavors. Address: 321 Bridge St., New Cumberland. Open for takeout and limited indoor dining from 12 pm to 9 pm daily.
Images: Lauren Lindoerfer. Follow Lauren on Instagram: @food_flatterer