The Cumberland Valley is home to many products that are handcrafted and locally-made. You'll find passionate artisans and creative designers during your journey through the region. Here are some local handcrafted favorites…
Margie Fultz
My favorite hand-made item in the Cumberland Valley is anything that is crocheted by Margie Fultz. Margie was a neighbor of mine and it was through this friendship that I was exposed to her absolutely beautiful and artful way of crafting textiles that are useful to your everyday life – ponchos, jackets, scarves, purses – really anything you want, she can make it for you. The best thing about Margie's work is that the product is truly one of a kind; the special yarns used to craft your treasure is only yours!  Her ability to combine form and function in a way that tickles all your senses – is pure art!
You can find her at area craft shows and I can't wait to bring my wintery treasures out of the closets.
 -Shireen
Melissa Colucci Jewelry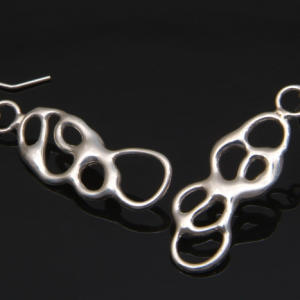 While I love shopping, I don't often purchase jewelry. However, I usually can't pass up the opportunity to purchase jewelry made by Melissa Colucci. She offers several different types of styles, but my favorite is her sterling silver free form jewelry – rings, cuff bracelets, and earrings are individually created making each item unique. Melissa's items can be found at two local retail locations – Village Artisans Gallery in Boiling Springs and Higashi Jewelry in Camp Hill. You can also explore her website or meet her while she sells and displays at various fine art and craft shows throughout the region.
-Stacey
Meadowbrooke Gourds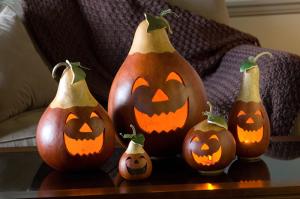 My favorite hand-made items in the Valley are the adorable creations from Meadowbrook Gourds. Located on the outskirts of Carlisle, this former potato farm now grows and crafts hundreds of varieties of seasonal gourds. I may be a bit of an addict, as I have chicks and a basket for Easter, light-up Jack o'lanterns and scarecrows for fall and angels and snowmen for the winter! One of the best parts about Meadowbrook Gourds is visiting their farm and retail location during one of their special weekends, like the upcoming Open House in honor of American Craft Week. They offer all sorts of special activities like tours of the facility and classes to make your own custom gourds. My absolute favorite gourd is the little Jack o'lantern in the photo – I picked out a pre-finished gourd and penciled on the face and the staff cut it out!
 -Ashley
Pat Craig Studios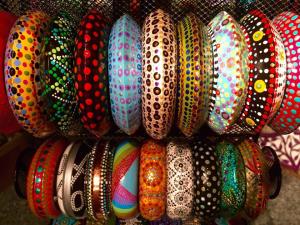 It's hard to pick my favorite made-in Cumberland Valley item. I selected the painted, wooden bracelets from Pat Craig Studios in Carlisle for a few reasons. The top reason being that they are a great gift! They are super cute, affordable and come in a variety of colors and designs. I love giving locally-made gifts, they always feel more personal and sentimental. As you can see in the photo, they make so many great color combinations and designs that picking out a bracelet for someone, or yourself, is definitely part of the fun. On top of being a great gift, the fact that these are hand-painted is impressive given the level of detail and how intricate they are. So, if you are ever in need of a creative gift idea, or a fun accessory for any outfit, head to Pat Craig's for one of these.
-Kristen